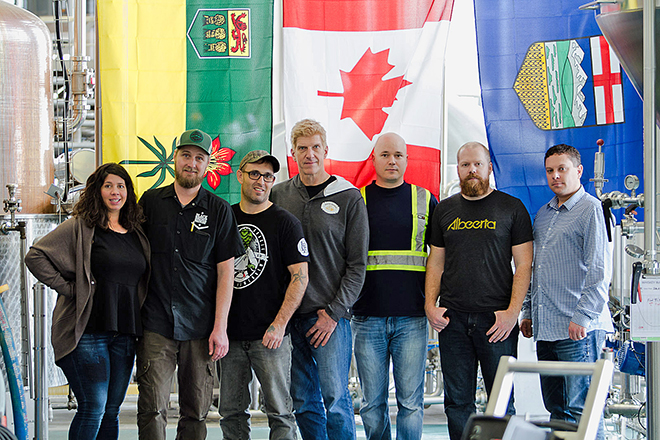 A Swift Current inspired beer will be available across Canada during Canada's 150th birthday celebration.
Black Bridge Brewery was selected as the Saskatchewan designed beer in the Red Racer Across the Nation Collaboration 12-pack. Craft brewers from coast-to-coast met at Central City Brewers + Distillers in Surrey, B.C. during March to brew a speciality beer which embodies the region they represent.
Black Bridge Brewery's contribution to the 12 pack is the Wide Open Spaces Kellerbier. This German style beer is described as a young lager, with a distinctive and delicious flavour.
Canadian breweries from all 12 provinces contributed to this collaboration effort. Also available in this pack of unique cross-country brews are:
British Columbia – Four Winds Brewing Company: Left of the Divide IPA.
Alberta – Last Best Brewing & Distilling: Berry Light Berliner Weisse.
Manitoba – Half Pints Brewing Company: Land of Rice & Honey Saison.
Ontario – Beau's Brewing Company: Upper Reaches Pale Ale.
Quebec – Le Trou Du Diable: Bouclier canadien Pilsner.
New Brunswick – Picaroons Traditional Ales: Restored Hop(e) Extra Special Bitter.
Nova Scotia – Garrison Brewing Company: "New" Scottish Ale.
Prince Edward Island – PEI Brewing Company: Bière d'ici Honey Ale (Beer of Here).
Newfoundland – Quidi Vidi Brewing Company: Hop To The East Hefeweizen.
Yukon – Yukon Brewing Company: Swift Currant Dark Ale.
Northwest Territories – NWT Brewing Company: Miner's Refresh Grissette.
Celebration tasting events will be hosted this summer at each brewery. Black Bridge Brewery is hosting their special tasting event on June 4.
Black Bridge Brewery is owned by Clayton and Kari Stenson. Open for just over two years, the young business won the New Venture Award at the Saskatchewan Chamber of Commerce's 2016 ABEX Awards.
They won a silver medal for their Milk Stout in the Sweet Stout or Cream Stout category at the 2016 Canadian Brewing Awards, a step up from the bronze medal they claimed in the South category at the 2015 Canadian Brewing Awards.
The Red Racer Across the Nation Collaboration will be available in liquor stores this month.