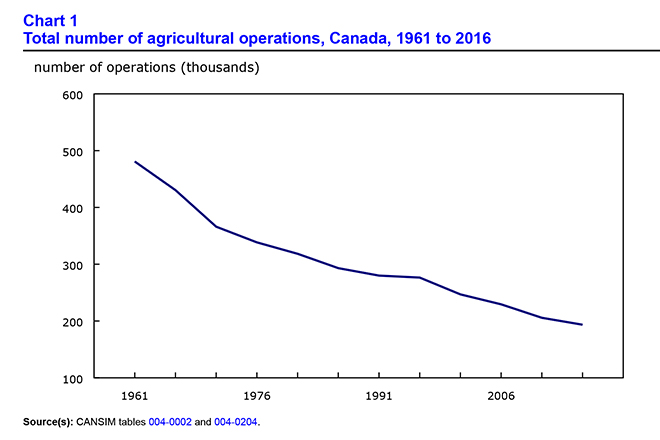 The 2016 Census of Agriculture is showing farm operations are getting larger while the total number of farm operations continues to shrink.
The census data released by Statistic Canada today notes that in 2016 there were 193,492 farms, down 5.9 per cent from the previous census in 2011. Statistics Canada did highlight that this was the lowest rate of decline in two decades.
And while farm numbers have consolidated, the average area per Canadian farm grew to 820 acres in 2016, a jump from 779 acres in 2011. Saskatchewan boasts the largest farm sizes in Canada at an average size of 1,784 acres. And while farm size varies considerably based on region and farm type, the smallest on average are located in Newfoundland and Labrador at only 174 acres.
Cropland acreage grew to 93.4 million acres, an increase of 6.9 per cent from 2011. This total reflects land that was flooded during 2011 being brought back into production, a decrease in the use of summerfallow, and the conversion of marginal land into productive cropland.
Field crop area grew from 69.7 million acres back in 2011 to a total of 78.5 million acres in 2016. This increase largely occurred on the prairies, with 2011 flooded acres in Manitoba and Saskatchewan now being utilized.
However, the total farm area decreased 0.9 per cent to 158.7 million acres compared to the total of 160.2 million acres in 2011. A portion of this drop is attributed to the fact that land rental agreements tend to cover only production land.
Another key finding in the census was the shifting age of farmers. There were a total of 271,935 farm operations in the 2016 census, a drop from 293,925 in 2011.
The total number of farmers aged 55 years and older increased to 54.5 per cent in 2016, a jump from 48.3 per cent in 2011. This category of farmers remains the fastest growing age group. The average age of a Canadian farmers in 2016 was 55 years of age, a slight increase from 54 years in 2011.
However the number of farmers under the age of 35 is on the rise, growing to 9.1 per cent in 2016 to increase from the 8.2 per cent in 2011. This was the first time the absolute numbers in this category have grown since 1991, as there were 24,850 young producers in 2016, up from 24,120 in 2011.
Farmers in the 35 to 54 year age group decreased to 36.3 per cent in 2016, a drop from 43.5 per cent in 2011.
The statistics highlight that a larger percentage of women are now farm operators, rising from 27.4 per cent in 2011 to a total of 28.7 per cent in 2016. Of the 77,970 women who were listed as farm operators in 2016, the largest percentage were aged 35 to 54 years (30.7 per cent), followed by operators aged 55 and older (27.7 per cent), and those under 35 years of age (26.4 per cent).
Oilseed and grain-type farms remain the most common farm, growing to 32.9 per cent in 2016, an increase from 30.0 per cent in 2011. Statistically 46.3 per cent of farms in the prairie provinces are oilseed and grain-type farms.
The top seeded field crop in 2016 was canola at 20.6 million acres. That is a major swing from the 3.4 million acres of canola seeded back in 1981.
The second most popular crop was spring wheat at 15.69 million acres, but this has dipped from 25.7 million acres in 1981.
The other top film crops and hay during 2016 were: 3) Alfalfa and alfalfa mixtures – 9.27 million acres; 4) Barley – 6.69 million acres; 5) Durum wheat – 6.06 million acres; 6) Soybeans – 5.61 million acres; 7) Lentils – 5.58 million acres; 8) All other tame hay – 4.85 million acres.
The size of the beef breeding herd was 4.4 million animals in 2016, a drop of 1.0 per cent from the 4.5 million animals in the 2011 census.
And while the average herd size per farm increased, there was an overall decline in producer numbers.
The livestock sector has been characterized by exits and consolidation. Thanks to strong demand for Canadian beef breeding stock from 2011 to 2016, Statistics Canada notes that some producers chose to take advantage of higher prices to sell their cattle and focus on other agricultural activities, such as crop production, or opted to entirely leave farming.
The number of beef cattle decreased to 6.88 million head in 2016, down 2.4 per cent from 2011. The number of operations reporting beef cattle declined 12.3 per cent to 62,760.
Overall, among operations with beef cattle, they had an average of 110 head in 2016, up 11.3 per cent from 2011.
The two primary segments of the sector remain cow-calf operations specializing in raising breeding stock and feedlots specializing in feeding cattle destined for market. Just over 80 per cent of the total beef cattle in Canada are raised in the prairie provinces.
On cow-calf operations, the average beef herd increased from 74 head in 2011 to 84 in 2016. Over the same period, feedlot operations grew on average from 185 head of beef cattle in 2011 to 212 head in 2016.
Statistics Canada will be releasing additional data over the next six weeks with further analysis of census results. Agricultural data has been collected in Canada since 1666 and 2016 marks the 22nd Census of Agriculture since Confederation.
EXTRAS
– The value of land and buildings used by agricultural operations increased 37.5 per cent, from $311.2 billion in 2011 to $427.9 billion (in 2016 constant dollars) in 2016. Land and building values varied across the country, ranging from an average of $1,210 per acre in Saskatchewan to $9,580 per acre in Ontario. The national average value for land and buildings on farms was $2,696 per acre.
– Gross farm receipts totalled $69.4 billion in 2015, while operating expenses reached $57.5 billion. On average, for every dollar in gross farm receipts, farms incurred 83 cents in expenses in 2015 for an expense-to-receipt ratio of 0.83. Rounded to the nearest cent, the ratio was unchanged from 2010. The stability in the expense-to-receipt ratio indicates that farms were as profitable in 2015 at the national level as they were in 2010.