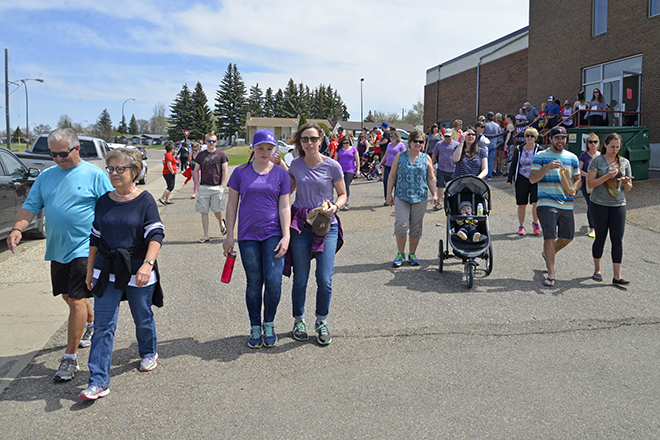 A fundraising total of $17,500 was announced following the 2017 Saskatchewan Blue Cross MS Walk in Swift Current on Sunday.
Over 100 enthusiastic walkers headed out from Bridgeway Community Church to cover the walking route along the Chinook Pathway during a warm Sunday afternoon. Swift Current was one of 11 Saskatchewan communities scheduling a walk fundraiser in support of the Multiple Sclerosis Society of Canada, Saskatchewan Division. Regina and Saskatoon held events on April 30, with Swift Current and Eastend among the five locations hosting events on May 7. The final four events will be held on May 28.
Maggie Lens, Manager of Development for Northern Saskatchewan with the MS Society, said the Blue Cross MS Walk is both an important fundraiser and a chance to raise awareness of MS.
"It's an inspiring day. We come out and we see over 100 people raising funds and awareness and support for MS in our province is just such an inspiring and overwhelming day," Lens said.
"The more important aspect is really that it is a sense of community and it's an awareness piece to show those that live with MS that we support them and that we're here to help them. And that we are continuing to do research and support and services for them."
MS is one of the most common neurological disease affecting young adults in Canada. As a disease of the central nervous system, MS is a chronic, often disabling disease. In the province there are more than 3,700 people who are living with MS.
"Canada has the highest rate of MS in the world, and per capita right now Saskatchewan has one of the highest rates in the country. So we have quite a prevalence here," Lens noted.
"These events really show that just because we're the highest rate, doesn't mean we're going to stop fighting. So it's really inspiring to see participant numbers increasing across the province, fundraising dollars increasing across the province, and really just being able to show that we're interested in what's happening and we're working more with research."
Canadian MS research is currently exploring causes and risk factors, along with looking into treatments for progressive forms of MS.
"Research is extremely exciting right now. We have got tonnes of work happening in Progressive MS, a lot more than what we had before."
She pointed out that a year ago Saskatchewan did not have an MS specialist, and now the province has two. Saskatchewan also boasts a new MS clinic director, plus a new clinical MS research chair.
"What this means for those living with MS is hope. So not only do they get access to clinical care and specialists, but they also get the opportunity to participate in the research activity."
Additional information about MS is available by visiting the MS Society of Canada website at mssociety.ca.