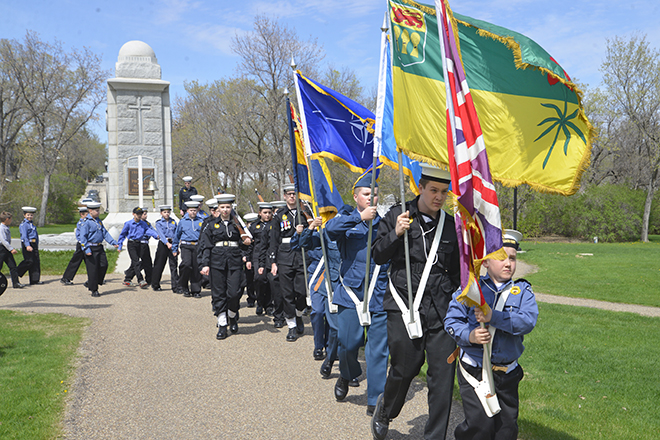 Members of the 259 Royal Canadian Sea Cadet Corps Drylander led a brief ceremony on Sunday to remember the sacrifice of Canadians and Allied forces during the Battle of the Atlantic.
They were joined by members of the Swift Current Navy League Cadets, plus the 605 Tarry Royal Canadian Air Cadets in a ceremony commemorating the longest continuous battle of the Second World War. The 2,075 day battle raged across the Atlantic Ocean starting in Sept. 3, 1939 and concluding on May 8, 1945.
On May 7, communities across Canada and the United Kingdom joined to remember the conclusion of the Battle of the Atlantic, the longest battle waged during World War II.
A total of 24 Canadian warships were lost and over 1,300 Canadian sailors gave their lives during the battle. Also lost were over 60 Canadian registered merchant ships, with over 1,600 Canadian and Newfoundland Merchant Navy personnel lost.
World War II ended in Europe on May 8, 1945 when Germany formally surrendered.