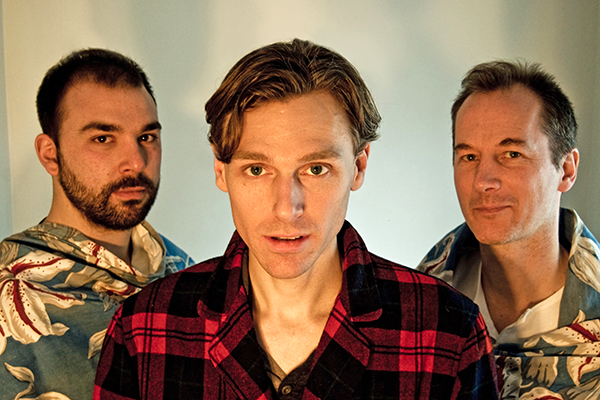 A fabulous line-up of Canadian musical acts will highlight four nights of music under the big-top tent at the 2017 Long Day's Night Music Festival.
The June 22 to June 25 concert line-up includes local bands, up-and-coming acts, and Juno Award winning performers. The diverse group of performers ranges from folk to rock, from ska to latin.
June 22
Opening Act – Megan Nash and Bears in Hazenmore
Headliner – Scenic Route to Alaska
Saskatchewan singer/songwriter Megan Nash combined forces with Bears in Hazenmore for a series of shows this past year, and the musical collaboration is continuing into another summer of performances. They will be at the Gateway Festival in Bengough this July, and they are assisting her with a series of Megan Nash Band album fundraiser concerts.
Nash has toured across Canada from her rural Saskatchewan base, and she has frequently performed in Swift Current over the past number of years. She boasts a powerful voice and has opened for performers including Serena Ryder, Amelia Curran, The Heartbroken and Del Barber.
Last year Nash was nominated for a Western Canadian Music Award in the Songwriter of the Year category for the single Deer Head from her album Song Harvest: Volume One. She has also showcased at Folk Alliance 2015, and was part of JUNOfest 2013.
Bears in Hazenmore are no strangers to the Southwest, as the Swift Current-based alternative rock group formed here in 2014. The group features Brady Frank (Vocals, Keys, Guitar), Dana Rempel (Bass, Sax), Darnell Stewart (Guitar), Dalton Lam (Trumpet, Keys) and Tanner Wilhelm Hale (Drums, Vocals). They released their self titled EP Bears in Hazenmore in 2015, and followed up with full length Airwaves in 2015.
The Edmonton based indie-folk trio Scenic Route to Alaska continue to carve out their musical niche since forming back in 2010. They released their debut self titled EP in 2011 and toured across Alberta and British Columbia while launching their career as a band.
Their first full-length release All These Years was released in June 2012, and they made their first cross Canada tour to support the recording.
They refined their indie-prairie sound on their sophomore release Warrington, a recording that captured their live performance energy.
The trio of Trevor Mann, Murray Wood and Shea Connor have performed at high profile events like Canadian Music Week in Toronto and Juno Fest in Ottawa.
They are currently touring in support of their Sept. 2016 release Long Walk Home.
June 23
Opening Act – Andino Suns
Headliner – Skavenjah
Friday, June 23 will boast an all-Saskatchewan night of upbeat music.
Andino Suns will share their vibrant Latin styled sounds while featuring the group's uptempo performance style.
The Regina based group earned a 2015 Western Canadian Music Award nomination in the World Recording of the Year category for their sophomore release It's Time to Rise. The band, which formed back in 2009, boasts a trio of full length releases (Andino Suns in 2013, It's Time to Rise in 2014, and their most recent release Madera from 2016).
Andino Suns continue to grow their fan base thanks to their raucous, stand-out live performances. Their growing reputation has earned them invitations to festivals across Canada.
Skavenjah has been ska mainstays in North America since 1992.
This year the Regina-based band is celebrating 25 years of their familiar ska/reggae/soul sound. And despite a long list of shows and tours over the years, the fun-loving band shows no signs of slowing, and they recently released the live album One More Night With You.
The band both writes their own material, and covers many of the instantly recognizable ska anthems during their party-atmosphere live shows
Skavenjah have released six full length recordings, Put Some Skank In Your Tank (1993), All Dressed Up (1996), Little Monsters (1999), Light It Up (2003), El Ritmo de la Vida (2006) and One More Night With You (2009).
June 24
Opening Act – Bombargo
Headliner – Joel Plaskett Emergency
You might just have a new favourite Saskatchewan party band when Bombargo brings their high octane live show to kick off a Saturday night of music under the tent.
The Saskatoon quartet features Nathan Thoen, Spencer Chilliak, Graham Tilsley, and Phil Kashap are renown for an intense live show.
Relative newcomers to the music scene, they released their EP Back on Main debut release in 2015.
The release of their full length CD, We Are Bombargo, will be held in Saskatoon on May 5. Their new single, Pour Me Another, will be released on April 3.
Joel Plaskett continues to build a library of requisite Canadian rock since launching a solo career in 2000.
The Nova Scotia born performer has earned a wall full of East Coast Music Awards as both a solo artist and the head of Joel Plaskett Emergency.
He won the 2010 Juno in the Adult Alternative Album of the Year category for his solo release Three. He also gathered four other Juno nominations, being nominated as Songwriter of the Year in 2006, 2008, and 2010, and his 2016 release The Park Avenue Sobriety Test was also nominated as Adult Alternative Album of the Year.
Plaskett has been in the running for the Polaris Music Prize a trio of times. In 2012, the Joel Plaskett Emergency release Scrappy Happiness made the Polaris Music Prize Long List. In 2009, he reached the Short List of the Polaris Music Prize for the 27-song release entitled Three. And back in 2007, Ashtray Rock by Joel Plaskett Emergency made the Short List.
Joel Plaskett Emergency have released five full length recordings: the Juno nominated Down at the Khyber (2001) and Truthfully, Truthfully (2003), along with Make a Little Noise EP (2006), Ashtray Rock (2007), and Scrappy Happiness (2012).
Plaskett has released four solo albums, Debut with In Need of Medical Attention (1999), followed by La De Da (2005), Three (2009), plus The Park Avenue Sobriety Test (2015).
He currently on tour with his father Bill in support of the folk twinged full length recording Solidarity from Bill and Joel Plaskett.
June 25
Headliner – Leeroy Stagger
The spotlight will be handed over to contemporary singer/songwriter Leeroy Stagger for the final night of the festival.
The BC native, who is now based in southern Alberta, is on a major upswing as he prepares to release his newest recording Love Versus, which will debut on April 7.
Stagger was the winner of Alberta's Peak Performance Project in 2015, earning him a prize of just over $100,000. This allowed him to build a recording studio onto his house, and the momentum of the win has fuelled the prospects for his breakout after 10 previous studio releases.
His new sound on Love Versus brings him a long way from his debut recording in 2002.
Over the years he has opened for Steve Earle, The Pixies, Los Lobos, George Thorogood, Ron Sexsmith and Joel Plaskett.
A limited number of Early Bird Festival Passes for all four nights are only $95 and are available at Pharmasave or Picatic.ca.  In June, the Festival Passes will cost $110 for all four nights.