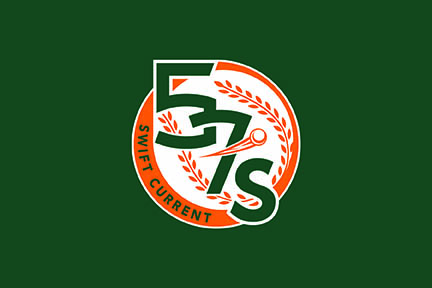 The Swift Current 57's five-game winning streak ended abruptly Wednesday when they lost both games of a double header to the host Yorkton Cardinals.
The 57's winning streak came to an end in the opening game, a 5-4 loss in which they made four errors and were outhit 11-7.
Bryan Spagnuala earned the win with three hitless relief innings, striking out four along the way.
Bobby St. Pierre took the loss for Swift Current, allowing 10 hits, three walks, and five runs, only three that were earned, over five innings.
Matt Bondarchuk led the offense with three hits, one run scored, one run batted in, and a stolen base. Catcher Bodie Cooper swatted a two-run home run in the second inning.
Cooper hit his second two-run home run of the day in game two but it wasn't enough as the 57's lost 8-6. Cooper also doubled twice and scored twice. Riley Campbell was on base four times with a single and three walks and stole three bases in a losing cause.
Garrett Goodall took the loss after allowing eight hits and six runs while getting only five outs.
The Cardinals broke the game open with a six-run second inning and then added two runs the following inning to seal the win as all nine players in the batting order had at least one hit and eight of them came around to score.
Swift Current dropped to 10-5, while Yorkton improved to 4-11 as they ended a six-game losing streak. The 57's are at home Thursday to host the Weyburn Beavers.