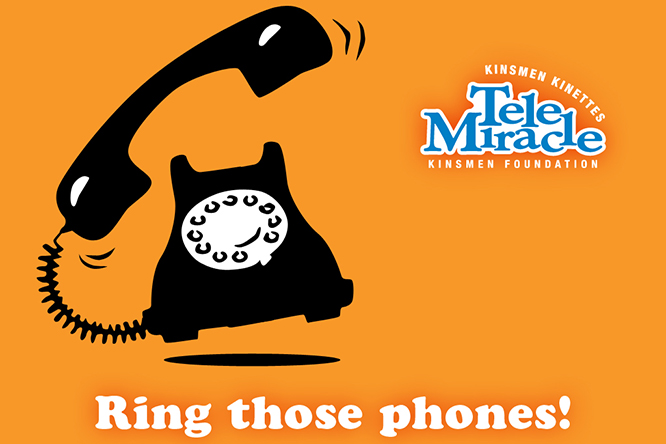 Members of the Swift Current Kinsmen and Kinettes will be busy working behind the scenes and on stage during Telemiracle 41 in Saskatoon this weekend.
The 20-hour telethon in support of the Kinsmen Kinettes Telemiracle Foundation, begins Saturday night at 9 p.m. and runs until 5 p.m. on Sunday afternoon.
A delegation from the Swift Current Kinsmen and Kinettes Clubs were special invited guests at the February 27 Swift Current City Council meeting and had an opportunity to highlight the importance of Telemiracle. The delegation of Tracy Prang (Education), Brenna Ekstrand (Corporate), Vickie Powell (Manpower Chair) and Scott Lamb (Corporate) are all on the Telemiracle Committee.
"Telemiracle has been a record-breaking telethon around for 41 years," explained local Kinsmen member Scott Lamb, who is also Vice Chair of the Kinsmen Telemiracle Foundation Board.
"It is phenomenal. It is 20 hours of absolute fun. It's no sleep. All it is is coffee and adrenaline for 20 hours for us," he said of the Kinsmen family who help put on the event.
"The show in phenomenal. The people we get are phenomenal. And even more important are the people like yourselves who donate to this show every single year from Saskatchewan. Truly tremendous."
Lamb highlighted that the Telemiracle Foundation has a province wide impact through the distribution of their telethon funds.
"We provide special needs equipment and access to medical assistance, travel, to residents of Saskatchewan," Lamb said. "We've been helping people every day since 1977. And it is truly every day that we do work."
The Telemiracle Foundation meets nine times a year, and this past year they reviewed over 1,200 applications and distributed $4.2 million to approximately 90 per cent of those requests.
As a former zone representative on the Telemiracle Foundation, Lamb has directly experienced the impact of those donations.
"I can tell you honestly what it's like to be able to make a phone call on a Sunday after a board meeting. And tell someone that we can give them a $400 walker, and they start crying because it's truly life changing," Lamb said. "Or a scooter, or a van lift, or anything like that. Those are amazing phone calls to make."
"You can feel the love on the other end when we tell someone that we're providing them what they need to change their life."
Southwest viewers of Telemiracle are invited to tune in between 8 a.m. and 9 a.m on Sunday morning when the Swift Current Kinsmen and Kinettes will be on stage to make their community donation.
There are also two local groups performing during Telemiracle weekend, with Shaunavon's Hunter Brothers part of the national cast of performers, while The Sundrops will be making their Telemiracle debut.