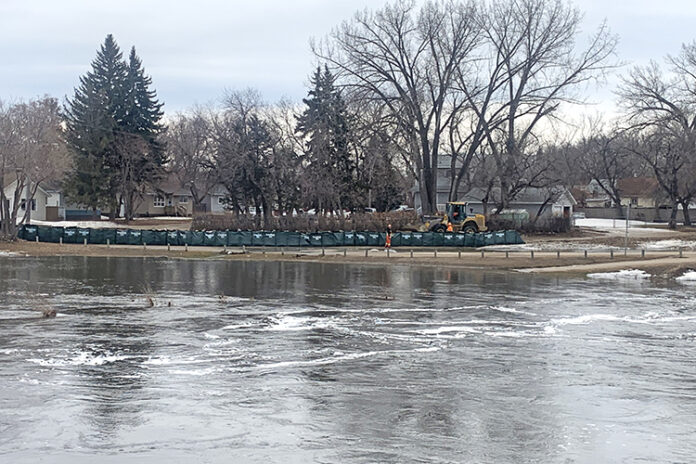 The Water Security Agency (WSA) is advising Southwest residents of the potential for ice jams on Swift Current Creek and the Wood River following the rapid snow melt and runoff which began during the Easter Weekend.
While ice jams are not uncommon this time of year, when combined with the higher than predicted water flows now underway it increases the risk for potential localized flooding as they disrupt normal flows and can cause water to breach embankments.
As ice is still present along the Swift Current Creek, the Water Security Agency is now diverting water on the Swift Current Main Canal to reduce flows through the City of Swift Current and have temporarily ceased outflows at Duncairn Dam.
Residents are advised to be aware of the potential for ice jamming and possible flooding upstream where it occurs.
The public should exercise caution as ice jams can be highly dynamic resulting in rapid changes in water levels – under no circumstances should anyone venture out onto an ice jam.
Warmer temperatures and higher flow rates may weaken the integrity of ice and reduce the potential for ice jamming.
WSA will continue to monitor conditions and provide updates to the potential for ice jamming and possible localized flooding as conditions develop.
Earlier today City of Swift Current crews began installing a series of flood barriers in flood prone locations along the Swift Current Creek in response to the quickly rising run-off totals.
In a news release this morning they were urging caution and encouraging the public to stay away from areas where creek levels are rising due to sudden warming temperatures causing fast spring run-off.
"Water levels are rising and are swift-moving, so people need to take extra caution right now and be prepared for changing conditions," said Ryan Hunter, Fire Chief of the City of Swift Current. "We want to ensure that the public is not taking unnecessary risks."
Throughout the next couple of days, City of Swift Current crews will be about the city putting up temporary barricades in low-lying areas around the creek. One of the most helpful activities the public can do immediately is avoid these areas.
Below are some tips to help the residents of Swift Current prepare for potential flooding:
Never walk or drive through flooded streets and parkways. Water can be deeper than it appears, and water levels can rise very quickly.
Stay alert for changing conditions, mainly if you live in low-lying areas near the Swift Current Creek and other waterways.
Keep clear of the creek banks as the soil is softening, resulting in unstable ground. Most importantly, keep children and pets away from the creek banks.