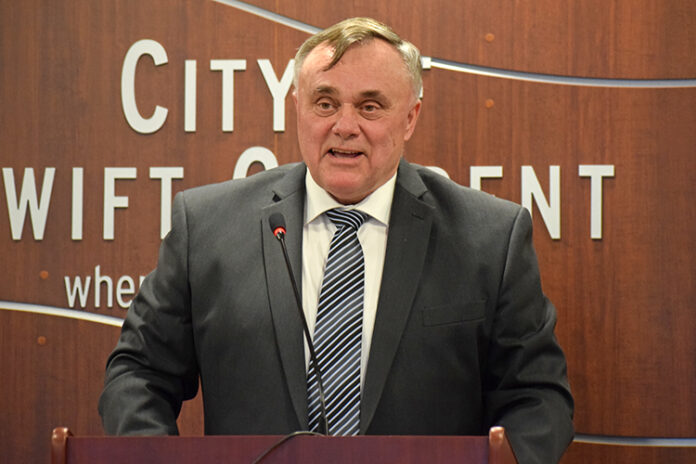 The average Swift Current homeowner will be paying an additional $71 in property taxes after Swift Current City Council approved a 3.99 per cent property tax increase in their 2023 Municipal Budget.
The Municipal Budget was unanimously approved at the March 20 Council meeting, with the higher taxes reflective of inflationary pressures and higher labour costs from salary increases from three union collective agreements.
Swift Current Mayor Al Bridal noted when the budget was first presented it would have delivered a 12 per cent increase, but council worked to lessen the impact of the budget by cutting eight per cent of that proposed increase.
"As council we sat down with admin and we spent a whole day and went through everything line by line, item by item, and we did get rid of quite a few capital expenses and just a few minor on the operational side. But it was very difficult," Bridal said after Monday's budget approval.
"It's a 3.99 per cent increase. That hurts everybody, it really does. But everybody out there, I think everybody's going to realize that there's just nothing we can do about it."
City Council approached the budget with a conservative mindset and the realization that the financial climate has changed over the last few years, with that pinch felt in all sectors.
"This mindset has resulted in fewer construction projects, focusing instead on maintaining our assets or making due for a little longer with aging infrastructure," Bridal said during his budget address. "It has resulted in creative problem solving, leveraging a surplus from one of our higher-performing utilities to get us through this period. It has required us to push a few great ideas just a little further down the road, make tough decisions and maximize efficiencies wherever possible."
"None of this increase is coming from construction projects. It is primarily in response to inflationary expenditures that the City must incur to carry on business and maintain service levels."
Bridal said the City was anticipating to approve a budget with no additional debt, but an infrastructure emergency is requiring the City to take on approximately $1.3 million of extra debt. A significant water main break in the 800 block of 10th Ave. N.E. on Sunday night disrupted that strategy, and the City will be working on a plan to make the necessary repairs to the aging water lines along that street.
Ironically, the City had previously tendered repairs to that section however the project was delayed.
"We were going to do it last year, and we had full intention of doing it last year, and then we ran out of time. And this this year, since it didn't break down last year, Engineering said well maybe it will hold off for one more year. So our intention was ok we're just going to leave it for next year. And then on the weekend the pipe broke very, very badly like I said, split a 10 foot piece…And the only thing we can do is it needs to be repaired," Bridal said.
Overall, the 2023 Municipal Budget contains Operating and Utility Expenses of $71,124,188, capital expenditures of just over $10.4 million, and an overall cost of $81,563,153.
"Ratepayers are going to see basically business as usual, they really will, in this year's budget. We're not cutting back any services."
Bridal noted that city residents will not see as many large paving projects as in previous budgets, but there will be $800,000 in paving and sidewalk repairs, and the City is planning for a fair bit of pothole repair.
"You may notice us repair infrastructure on a priority basis to ensure these assets are maintained well."
As part of this year's budget, the city will be paying down $5.4 million on the existing City debt total.