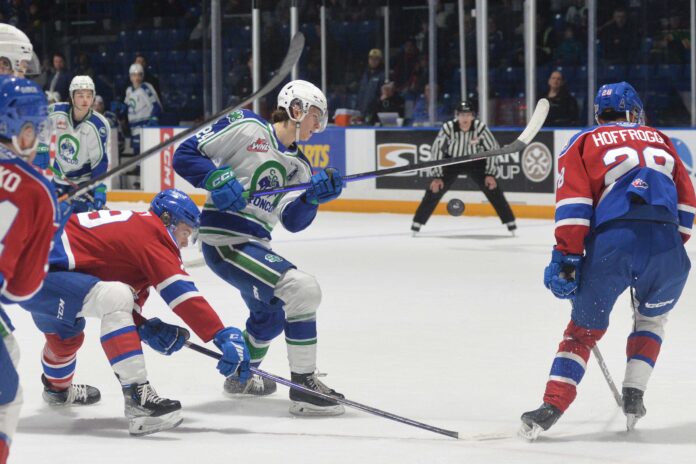 The Swift Current Broncos kept their Western Hockey League playoff hopes in their own hands with a 5-2 win over the visiting Edmonton Oil Kings on Tuesday.
The Broncos opened the scoring 9:55 into the first period when Mathew Ward one-timed a power play goal home, his 26th goal of the season. Edmonton quickly tied the game with a Mason Finley goal minutes later.
The Oil Kings took the lead 13:14 into the second period with a power play goal from Finley. The Broncos tied the game 2:31 later when a Sam McGinley screened point shot found the back of the net for his ninth goal of the season.
Caleb Wyrostok gave the Broncos a second lead 2:55 into the third period when he beat a defenseman wide and fired his 22nd goal of the season through the legs of Logan Cunningham. Josh Davies doubled the lead minutes later when his bad angle shot found the short side for his 19th goal. The Broncos killed off a lengthy Oil Kings' two-man advantage and then added an insurance goal off the stick of Brady Birnie before the game featured three fights in the dying minutes.
Reid Dyck improved to 14-22-1-1 with 27 saves. Logan Cunningham fell to 3-13-2-0 with 32 saves.
The Broncos improved to 30-32-1-3 with their second straight win. They moved within one point of Medicine Hat for the final playoff spot in the Eastern Conference.
Edmonton fell to 9-52-4-0 with their fourth straight loss. The Oil Kings will visit the Tigers on Wednesday.
The Broncos will host the Medicine Hat Tigers on Friday in their final home game of the regular season. The two teams will rematch Saturday in Medicine Hat to conclude the regular season.
Broncos Bits: Connor Hvidston had three assists in the win. The Broncos won all five games in the season series, scoring 31 goals along the way.