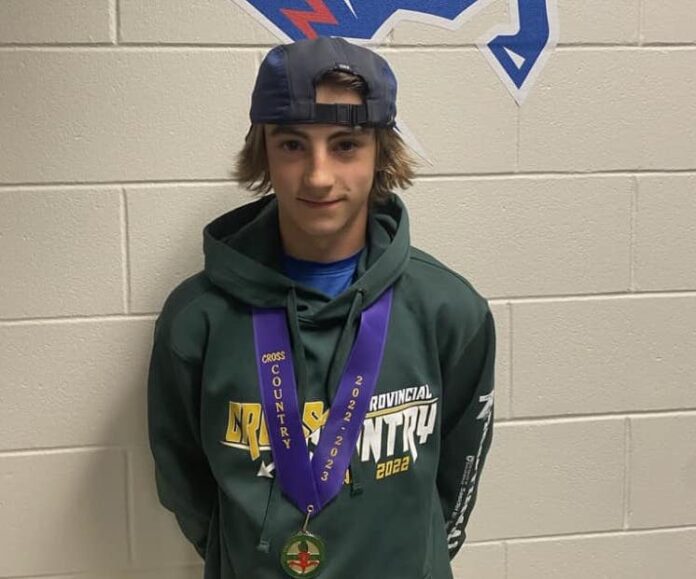 CROSS COUNTRY
Ten SWAC intermediate/junior/senior athletes competed at the SHSAA Provincials at Wapati Ski Hills (near Melfort) on October 15. It was a beautiful, but challenging course.
Colter Folk won gold in the Intermediate Boys Division at the championship. This SCCHS athlete defeated 102 other runners in his age group. It was an exciting finish, with Folk winning by a mere three seconds over his closest competitor. In fact, six seconds was the difference between first and fourth place.
SWAC Provincial results were as follows:
Intermediate boys (103 competitors)
1st – Colter Folk – SCCHS
44th – Jackson Tuplin – SCCHS
Intermediate girls (102 competitors)
56th – Keely Tuchscherer – SCCHS
73rd – Rory Jorgensen – Vanguard
Senior girls (81 competitors)
17th – Amara Gatzke – SCCHS
24th – Greta Lopeter – SCCHS
30th – Rielle Klassen – SCCHS
52nd – Grace Chou – Fox Valley
61st – Anik Piche – SCCHS
Senior boys (96 competitors)
36th – Wyatt Neufeld – SCCHS.
FOOTBALL
Results from our 9-man teams this week:
Shaunavon's win, in the last league game on Friday, October 14 versus Gull Lake, gave them home field advantage in the league playoffs. The Shadows finished second in the league and will host third place Lumsden in the semi-final on Friday, Oct. 21. Maple Creek had a loss on the road to Lumsden for their last scheduled league game. Both Gull Lake and Maple Creek's seasons have come to an end.
The 12-man SCCHS football team lost their last scheduled league game to Moose Jaw Peacock (43-27). The Colts will host the Tier 2 championship on Saturday, October 22. They'll play the winner of Estevan and Vanier.
SOCCER
League/SHSAA playoffs for both the Ardens and Colts started after the Thanksgiving break. The first place Ardens had a bye to the semi-final where they beat Moose Jaw Central 10-0. They will face Yorkton Regional in the league final on Tuesday, Oct. 18 in Moose Jaw. The Ardens will also host the SHSAA Regional tournament on Oct. 21-22.
The SCCHS Colts used their league playoff game as a regional seeding game for the SHSAA provincial tournament. The #4 Colts lost to the #1 Yorkton team. By placing second, the Colts have qualified for the provincial championship on Oct. 28-29.
VOLLEYBALL
SENIOR LEAGUE – There are rescheduled senior girls league matches (Eastend, Pontiex, Hazlet) and senior boys league matches (Shaunavon, Eastend, Herbert) whose points have not been factored into the standings. Teams play a match that is best of three sets. For each set win, there is one point awarded and an extra point goes to who wins the match.
League finals (featuring the top four teams) are slated for Nov. 1 (girls) and Nov. 2 (boys).
SWAC senior girls week three standings: SCCHS – 24 pts, Frontier – 22 points, Pontiex -15 points, Vanguard – 15 pts, Hazlet – 9 pts, Herbert – 3 pts, Eastend – 1, Shaunavon – 0.
SWAC senior boys week three standings: Frontier – 22 pts, SCCHS – 20 pts, Hazlet – 18 pts, Eastend – 16 pts, Shaunavon – 13 pts, Consul – 5 pts, Cabri – 2 pts, Herbert – 0.
Girls League host sites on Tuesday, October 18 are Shaunavon (SCCHS), Ponteix (Herbert, Frontier) and Hazlet (Eastend, Vanguard).
Boys League host sites on Wednesday, October 19 are Eastend (Consul, Shaunavon), Herbert (SCCHS) and Hazlet (Cabri, Frontier).
Junior sectional volleyball tournaments will take place at the end of October. The top two teams from each sectional will advance to the SWAC junior district championship on November 4. Whitemud will host the junior boys district championship and Cypress Hills will host the junior girls championship.
Junior Sectional hosts:
Cypress Hills boys – Cabri (Wednesday, Oct. 26 afterschool)
Cypress Hills girls – Fox Valley (Saturday, Oct. 29)
Whitemud girls – Consul (Saturday, Oct. 29)
Whitemud boys – Eastend (Saturday, Oct. 29)
Rolling Hills boy – Ecole Centennial (Saturday, Oct. 29)
Rolling Hills girls – Gull Lake (Saturday, Oct. 29)
Our senior girl volleyball teams will compete in SHSAA playoffs beginning the November 4-5 weekend.
Eastend will host a 1A conference girls tournament and a 2A girls tournament is scheduled for Ponteix.
The senior boys provincial playoffs begin on the Nov. 11-12 weekend. Hazlet is the site of one of the 1A boys conference tournaments and Ponteix will host a 2A tournament.
The Chinook School Division Sports Report is submitted by Val Gordon