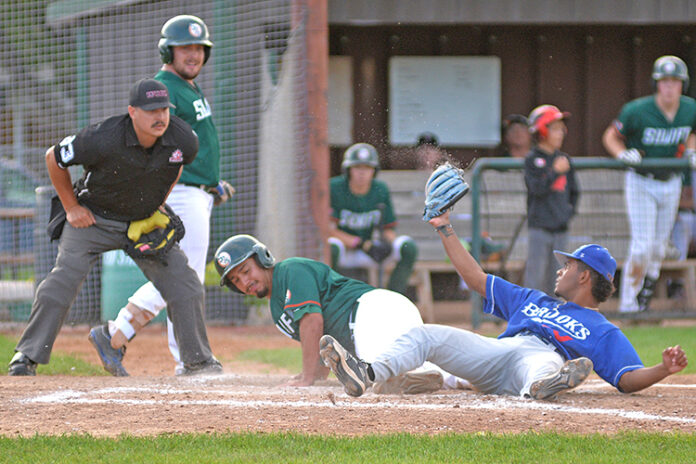 The Swift Current 57s fell behind 6-0 after three innings to the visiting Brooks Bombers, only to storm back to win the game 9-6 with a gutsy come from behind victory in Western Canadian Baseball League action on Tuesday night.
After being held to just two hits in the first three innings, the 57s bats began to wake up with 11 hits over the next five innings.
Matthew Ward doubled home Thomas Collins to cash in Swift Current's first run in the fourth inning.
Collins made it a 6-4 game when he blasted a three run home run in the fifth inning.
In the bottom of the seventh inning Collins scored his third run of the night when he was tripled home by Logan Grant, and Grant scored the tying run when he scored on a Ward sacrifice fly.
Swift Current completed the comeback victory in the eighth inning with a two out rally. With runners on second and third, Logan Grant singled in Cory Bonstrom with the winning run. Brody Alexandre capped the run production with a two run single to score Logan Stockton and Logan Grant.
Brooks used the long ball early to account for their early run production. Matt Wolff launched a two-run home run in the top of the first inning for an early 2-0 advantage. The Bombers then counted four runs in a five hit third inning, sparked by a one run double by Wolff and a two run double from Ryan Nagelbach. However, the Bombers managed just two more hits over their final six innings at the plate.
Swift Current starting pitcher Patrick Tangen gave up six runs on nine hits, while striking out four in six innings of work. He gave up just a single hit and only allowed three runners on base during his last three complete innings on the mound. Gregor Farquharson picked up the pitching win after throwing two hit ball while benefiting from a pair of double plays in the seventh and eighth innings. Zac Laird struck out the side in a strong ninth inning relief appearance.
The win pushes Swift Current's record to 24-23 with 10 games left in the regular season. Tuesday's win capped a successful four game home stand where they went a perfect 4-0 and produced a season best six game win streak.
Tuesday's contest was the 57s final game against West Division opponents where Swift Current only managed a 4-8 record. However, the 57s swept the season series against Brooks thanks to a 9-7 win back on June 8 where Swift Current scored three runs in the bottom of the ninth.
Swift Current now plays six of their final 10 games of the season at Mitchell Field. On Thursday the 57s travel to Medicine Hat for their final regular season trip to Alberta. The 57s then settle in for another four game home stand to face Medicine Hat on July 29 and August 1, plus Moose Jaw on July 31 and August 2.
Swift Current makes their final road swing of the season to face Moose Jaw on August 3 and Regina on August 6, before ending the season at Mitchell Field for a double header against Weyburn.