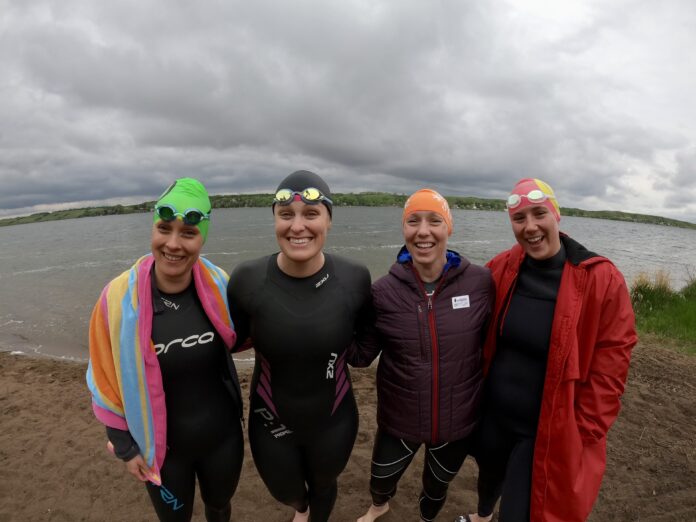 Swift Current's Meghan Chisholm will continue her quest for the next swimming challenge next week when she teams up with five other women to swim the length of Lake Diefenbaker.
Chisholm, 27, became the first Saskatchewan person to swim across the English Channel in 2014 at the age of 19. Now she is joining forces with five other Saskatchewan women to take part in The Diefenbaker Dip – 163 KM Swim For Women beginning on July 19.
The swim will begin at the Saskatchewan Landing bridge and will finish off at Danielson Provincial Park. They will attempt to swim the entire length of Diefenbaker Lake over the course of three days.
"We are going to be doing a timed rotation. We are going to be swimming an hour and 15 minutes and then we will tag out to the next person and rotate through. We think that it will take us approximately two and a half to potentially three days to complete this trek," explained Chisholm.
Chisholm said she was looking for a new challenge in the water after four of the women swam the length of Last Mountain Lake, just under 80 kilometres, two years ago.
"People do relay swims across the English Channel, which is roughly 30-50 kilometres, so having this a bit higher up we thought it was something that could challenge us. However, it only took us thirty-some hours and it was so easy, it didn't challenge us at all, it was just a lot of fun," explained Chisholm. "All six of us, as elite swimmers, we are still trying to find some sort of element where we are pushed out of our comfort zone and are given a challenge. Being all from Saskatchewan, there are so many lakes and bodies of water that we wanted to do something that was kind of locally in our province that would give us that challenge."
Chisholm said no one has attempted this type of swim in Saskatchewan.
"Something that is so high of a distance of 163 kilometres is not something you would find commonly, especially in Canada or in the world."
Chisholm will be joined by Dionne Tatlow, Adrien van Dyke, Élise Truscott, Kelsey van Dyke, and Nichole Robinson.
"All six of us will be living on a pontoon boat. There will be two drivers to help support our swim," she said.
The group has been busy preparing for the open water swim in recent months.
"A few of us have gotten together at the beginning of May. We started at Riverhurst while the water was eight degrees Celsius, training in cold water. I almost panicked because I couldn't catch my breath," said Chishom, who added that they have trained at Pike Lake, the Sask Landing, and in their local pools.
In one of their training weekends they swam for one and a half hours at the Shaw Centre in Saskatoon. Then they drove to Pike Lake and swam for another hour and returned to the Shaw Centre for another one hour swim and repeated a similar pattern for the next two days.
The group was also in the process of creating a nutrition plan for the trip.
"As swimmers we all have our own cravings after we complete a swim. At the end of the day it is get as much food as you can in ya," said Chisholm, who added that her preference is to have watermelon after a big swim.
Chisholm said there are some safety concerns when doing an open water swim that the group learned about on Last Mountain Lake.
"One of them was about boaters. Nothing where one of was run over, but it kind of was a close call of some boaters almost running us over… The cold water, one of our swimmers got really, really cold and was almost hypothermic. So just adapting to the environment and making sure that we are taking care of ourselves."
The six swimmers are hoping to raise $10,000 for YWCA Regina's #SayYes campaign and the La Ronge Native Women's Council Piwapan Women's Centre.
To follow the 163 kilometre swim or to donate to either program follow the 'Diefenbaker Dip on Facebook or Instagram or visit the YWCA Regina page.
They will begin their swim at 5 a.m. on Tuesday. The social media pages will document their progress throughout the swim.