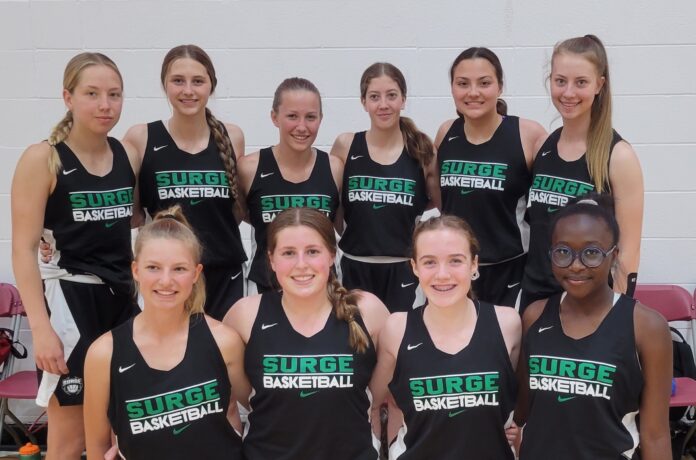 The Surge U17 girls basketball team wrapped up a successful season June 10-11 at the Alberta Shooting Stars 2022 Classic tournament in Calgary.
The tournament kicked off Friday night with a physical game against Diamond Valley that saw the Surge scrap their way to a 68-36 victory. Scoring was spread across the roster with Rielle Klassen leading the way with 13 points, and Karley Tait and Janelle Stolhandske-Dale chipping in 10 points each.
In their second game on Saturday morning, the Surge faced a strong Shooting Stars home team. The teams went neck and neck and throughout the game, but a late-game foul and clutch free throw by Klassen put the Surge up by one point. Another key shot by Klassen with seconds left in the game secured the 44-41 victory for the Surge.
The Surge faced the Cranbrook Wild in their final game of the tournament. The girls controlled the game, maintaining a healthy lead and emerging with a 51-32 win at the end of four quarters. Klassen lead the team in scoring with 14 points, followed by 10 points from Mia Riegel and eight points from Tait.
The girls finished their season with a record of seven wins and two losses, and two round-robin tournament pool wins.