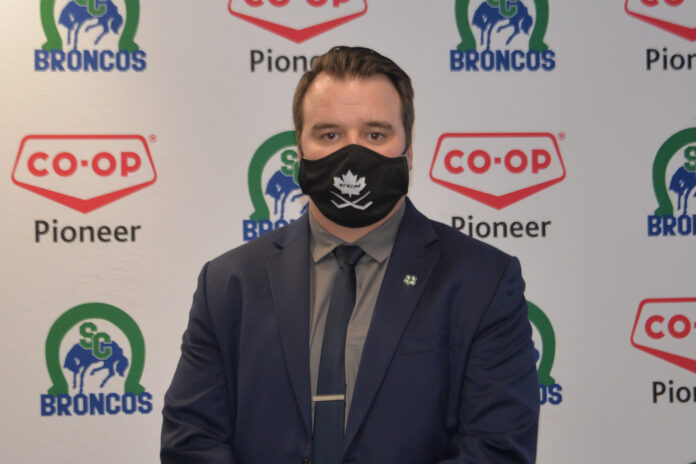 The Swift Current Broncos announced that head coach Devan Praught has been named an assistant coach for the World U17 Hockey Challenge in British Columbia November 5 to 12.Canada sends three teams to the event, Red, White and Black, and the coaching staff for each team will be finalized in the coming months.
Praught, from Summerside, P.E.I., was officially named the ninth head coach in franchise history on March 7 when the interim tag was removed from his title.
"We're very happy for Devan to have this opportunity with Hockey Canada," said Broncos general manager Chad Leslie. "As a young coach, this will give Devan a chance for development and growth outside of our organization to bring back and benefit our group, while also giving him exposure to help further his career."
Elevated to the interim head coach position on October 15, 2021, Praught guided the Broncos to a 23-33-5-2 record during the remainder of the 2021-22 season, helping the team remain in playoff contention until the final day of the regular season.
Prior to joining the Broncos, Praught spent eight seasons at Athol Murray College of Notre Dame as both a teacher and coach. After one season, and a league championship, as the head coach of the Notre Dame Hounds U18 AA team, Praught was the head coach of the U18 AAA Argos for the next two seasons.
He then moved to the U18 AAA Hounds for the 2016-17 season and saw an enormous amount of success over the next five years. Praught led the Hounds to back-to-back SMAAAHL championships in 2018 and 2019, and also claimed the Telus Cup as U18 National Champions in 2018.
Overall, Praught posted a record of 134-35-13 during his five years behind the bench with the Hounds. He also served as the head coach for Team Saskatchewan at the 2019 WHL Cup, leading Team Saskatchewan to their first ever gold medal at the event.