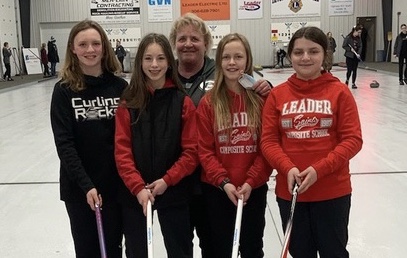 Senior boys basketball league game from Tuesday, February 8: Shaunavon boys over Maple Creek (95-58). SHS top scorers were Kyle Anderson, Trey Hammond and Wyatt Smith. Maple Creek top scorers were Logan Bauer and Micah Collura.
Senior girls basketball results from Tuesday February 8: 56-51 for Shaunavon over Maple Creek. Maple Creek high scorers: Clarisse Suba, Olivia Parsonage, Sierra Frey. Shaunavon high scorers: Jayden Voll, Ella Nelson, Danielle Dordu.
The scheduled senior league games, prior to the February break, have Swift Current Jr Colts/Ardens traveling to Shaunavon to play the Shadows/Silhouettes on Tuesday, February 15.
Make up games between SCCHS Jr Ardens and Shaunavon girls were arranged. SCCHS travels to Shaunavon on Monday, February 14. The Shaunavon girls will go back to Swift Current to play the Junior Ardens on March 2.
The SHSAA senior basketball playoffs will be upon us sooner than we think. The SHSAA has assign our SWAC basketball teams to conference playoffs in their enrolment classifications (March 11/12)
2A Gull Lake boys and Herbert boys will be in Regina
3A Maple Creek boys and Shaunavon boys will play in Shaunavon.
1A Herbert girls will host a conference playoff.
3A Maple Creek girls and Shaunavon girls will be in Rosetown.
Three of our SWAC basketball teams will be advancing straight to Regionals on March 18/19.
5A Swift Current Sr Colts are headed to Prince Albert.
5A Swift Current Sr Ardens will host Rural Regionals.
1A Vanguard boys will go to a Regional competition (site TBD).
The last league game for Junior boys basketball was played on February 10. SCCHS grade 9 boys defeated Maple Creek (60-21). Top scorers for Maple Creek: Aydan Buss, Alex Cruz. Top scorers for SCCHS grade 9: Zachary Potter, Devin Kalenchukts, Derric Dulatre.
Junior boys basketball league playoffs will begin on Thursday, February 17. Maple Creek (#2) will host Shaunavon (#3) in the league semi final. SCCHS grade 9 will host the winner of the semi-final for the league championship on Thursday, March 3.
A team had to drop out of our SWAC senior mixed curling playoffs. The two remaining mixed teams (SCCHS and Hazlet) will both advance to SHSAA Regionals hosted by Swift Current. They are playing a game for seeding and the SWAC championship medals on Tuesday, February 15. The Fox Valley girl and SCCHS boy teams will automatically advance to Regionals.
Junior curling sectional playoffs were held on the Feb. 11-12 weekend. The top two teams from each section advance to the Junior SWAC Championship on March 4-5 hosted by Fox Valley.
Rolling Hills Open:
1st – SCCHS (Troy Oakman, Aryn Thibault, Levin Weibe, Mitchell Friesen, alternate: Emily Phan).
2nd – Ponteix (Blake Cloutier, Alyssa Thingudd, Nick Severson, Rory Scully, alternate Collin Scully).
Rolling Hills Boys:
1st – Gull Lake (Tyler Lamarre, Zach Dysart, Lucas McMillan, Trusten Kirwan, Cohen Haithwaite)
2nd – Ecole Centennial (Jake Wiebe, Perrin Lemire, Isaac Siemens, Coleman Nelson).
Rolling Hills girls:
Ecole Centennial (Daphne Dyck, Lily Ferguson, Nicole Pelletier, Lillian Radtke).
Cypress Hills Open:
1st – Maple Creek (Dayton Cronkite, Luke Moorhead, Bradyn Unger, McKenzie Ouffie)
2nd – Hazlet (Tessa Todd, Braden Baumann, Teagan Emms, Arianna Berg, alternate: Aimee Brown).
Cypress Hills Boys:
1st – Maple Creek (Cooper Udal, Peyton Moorhead, Robert Parsonage, Cecil Baynton).
2nd – Fox Valley (Brock Schell, Hunter Glass, Lucas MacPhail, Ashton MacPhail).
Cypress Hills Girls:
1st – Leader (Grace Wickenheiser, Kyra Strutt, Rachel Cocks, Sam Silbernagel).
2nd – Maple Creek (Kellee Parsonage, Emelie Baynton, Maisey Cronkite, Kate Bandy, alternate: Bracelyn Bowyer).
Whitemud Open:
1st – Val Marie (Elizabeth Legault, Ashlyn Mything, Ethan Mything, Dominic Andrea, alternate: Deverick Beauchamp).
2nd – Eastend (Beau Barton, Izzy Gordon, Jewels Armstrong, Pheonix Den Hollander, alternate: Gabby VanSandt).
For the latest results for our SWAC teams, follow SWACSports on Facebook, Twitter, and Instagram.
The Chinook Sports Report is submitted by Val Gordon, SWAC Athletic Coordinator.