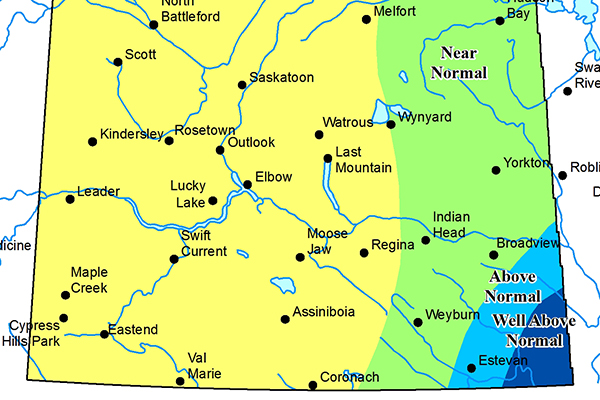 A well below average snowpack across much of the province has the Water Security Agency calling for a below normal runoff this spring, including forecast lower levels in the Southwest.
Below average snowmelt runoff is projected for the majority of the province as a result of the lower snow pack recorded in February. Even with above average precipitation adding to the snowpack over the next six to 10 weeks, they are forecasting near average spring runoff in areas where they are forecasting below normal runoff.
Southwest Saskatchewan had been one of the regions facing the potential of higher spring runoff during the Agency's fall report.
During the Water Security Agency's conditions at Freeze-up Report based on conditions in late November, they were advising of the potential of spring flooding as the southern portion of Saskatchewan was wetter than average heading into winter. Soil moisture levels were at or near capacity leading up to freeze-up, so even a normal snowpack would have created above normal runoff.
The Southeast corner of the province is now bracing for spring flooding, after heavy winter snows have placed them into above normal to well above normal spring runoff potential.
The Water Security Agency will be issuing their Spring Snowmelt Forecast next month.