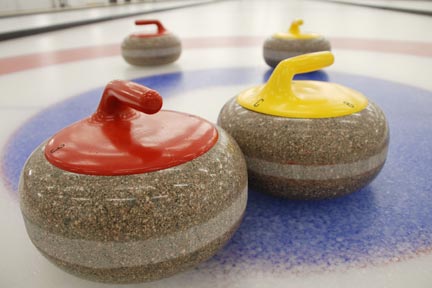 A Swift Current rink was able to qualify for provincials out of the 2016-17 Affinity Credit Union Senior Men's South Provincial Qualifier at the Shaunavon Curling Club where four Southwest teams were a part of the nine-team field.
Team Kirkpatrick included lead Greg Hannay, second Mitch Minken, third Wayne Charteris, and fourth Max Kirkpatrick. They lost their opening game 7-6 to Shaunavon's Grant Selvig.
Kirkpatrick got into the win column on Friday when he defeated Moose Jaw's Murray Stroeder 7-1 in six ends. He added a 6-1 win over Lampman's Mark Walter on Friday afternoon before losing 6-4 to Regina's Randy Gilewich on Saturday evening in the B Event final.
Kirkpatrick faced Walter again in the C Event final on Sunday and earned the final spot at Provincials with a 7-6 win.
The Kirkpaptrick rink will now play on their home ice at the Affinity Credit Union Provincial Championship at the Swift Current Curling Club on Feb. 22-26.
The host team included lead Dale Burch, second Michael Thienes, third Kevin Braun, and fourth Grant Selvig. They won their opener 8-4 over Swift Current's Clayton Wicks on Thursday afternoon. Selvig then met Kirkpatrick that evening and won 7-6 to reach the A Event semi-final.
Selvig was dropped to the B Event on Friday morning in an 8-4 loss to Moosomin's Daryl Williamson. He lost a second straight game on Friday evening in a 7-4 loss to Walter. The Shaunavon rink was eliminated in Saturday afternoon in a 6-5 loss to Stroeder.
Team Wicks was comprised of lead Darwin Seidler, second Greg Moffat, third Glen Letnes, and fourth Clayton Wicks.
Wicks lost in the B event on Friday with a 9-7 setback against Swift Current's Rod Quintin. Wicks was eliminated on Saturday afternoon with a 6-2 loss to Regina's Ken Rodgers.
The other Swift Current rink, skipped by Rod Quintin, lost their opener Thursday evening to Moosomin's Daryl Williamson. They rebounded Friday with a 9-7 win over Wicks. They were knocked from the B event with a 6-2 loss to Regina's Randy Gilewich and then were eliminated in a 9-2 loss to Walter on Sunday morning.
Team Quintin was comprised of lead Cory Boutin, second Dan Kennedy, third Ken Koster, and fourth Rod Quintin.