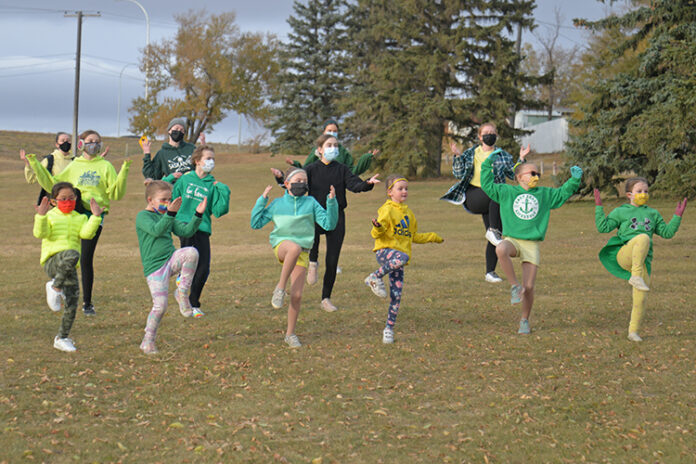 Dancers from across Saskatchewan will be sharing their joy of dance during a province wide celebration on October 27.
While the COVID-19 pandemic has dampened participation in a variety of activities, dancers have been practicing at home and safely taking classes in small groups to prepare for this special dance showcase.
The video dance exhibition, which is being released on social media under the hashtag #SKdancestogether, will share a short combo of dance moves by dancers of all ages from all corners of the province.
"It's fun. It's kind of like a flash mob kind of feeling, but obviously without the mob," explained Melissa Wallace from The Dance Studio of Swift Current.
"It's something that little dancers can learn, and adults, everybody can learn it and do it and have fun with it."
Groups of local dancers will join with approximately 120 different dance studios from across the province for the celebration of dance on Wednesday. Videos will be shared that day as one of the first performance opportunities young dancers have had in a number of long months.
"We need to get the kids doing some kind of performance to keep spirits high," Wallace admitted.
"Our dancers are dying to get back on stage, and it's hard seeing everyone to be on the volleyball court all together, in the hockey rink or the football field all together."
"What a great opportunity to come together with the whole dance community and create a positive story and do something positive to say dance is a huge industry and huge, fantastic outlet of all kinds for children and adults in our province."
To get ready for their online dance event, dance students had been learning the combo of moves for the past couple of weeks. Participants were dressed in Saskatchewan's official green and yellow colours while performing the dance.
"Our hope and our goal on October 27 is just to kind of flood social media."
"We just want to get a positive story out there because everybody is so down. It's nice to have positive things and to show happy people dancing, and how fun it can be to dance. And how simple it is to all come to dance class, learn the same dance, have a good time."