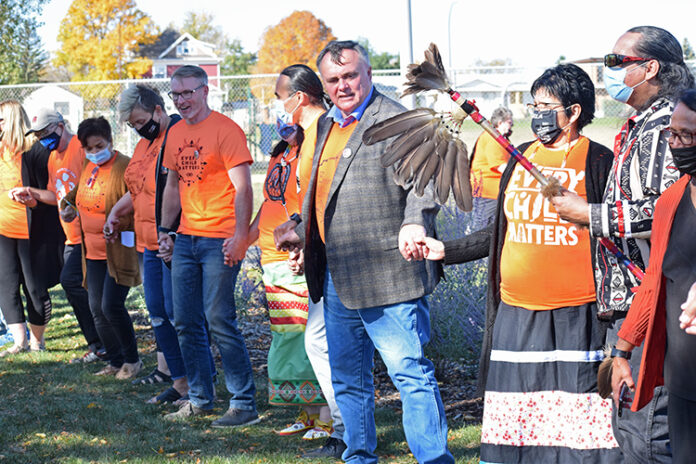 September 27 was a historic day in Swift Current with the landmark raising of the Treaty 4 and Metis Nation flags as permanent fixtures at the Swift Current flag court.
As the highlight of National Truth and Reconciliation Week which is being observed in Swift Current during the week of September 26 to October 2, the monumental flag raising was attended by a series of dignitaries from across the Southwest.
Chris Martins, a member of Swift Current and Area's Truth and Reconciliation Committee, highlighted during a welcoming statement that reconciliation can only begin once giving recognition of the region's past.
"In order to achieve reconciliation a few basic things have to be done. And one of them is recognizing that it is Treaty 4 land and the land of the Metis Nation."
The Committee chose to host a significant event in order to recognize the inaugural Truth and Reconciliation Day on September 30, the first national statutory holiday to commemorate the history and legacy of Residential Schools and to honour the survivors, their families and the communities.
Chief Alvin Francis, Chief of the Nekaneet First Nation, said the flag raising was a meaningful occasion.
"I wish that this could have been done a long time to honour our people. Treaty 4 has been around for a long time, and we need to know that we are just people," he said shortly after the Treaty 4 flag was raised for the first time in Swift Current. "It's time that we recognized each other."
Chief Francis said the flag raising signifies that people should work together in unison to make the future better for all.
"We should be moving forward in unison because I want my children, my grandchildren, the yet unborn to be equal, and walk hand and hand with each other. That's where we need to be."
"Let's make an understanding that we can actually talk to each other. Say hello. There's nothing with saying hello. A good wave. A country wave. Make it possible to talk to each other. We're just the same as you are. We live and breathe the same air. I want to see us get along to the point where we can actually just say good morning to each other. It's such a simple message. A simple way of living. We've got to get rid of that fear of each other."
Chief Francis added that the importance of treaties remains vitally important today.
"I never understood as a kid what it meant to be a treaty person myself because we were given stories, but it was just simply stories of how we lived and how we survived being in the Southwest part. Because there is some tragic history in the Cypress Hills where 16 First Nations lived at one time, and they were forcibly moved."
"We were honoured by our ranchers, our friends in the Southwest in the Cypress Hills, they gave us land to stay. Because Chief Nekaneet and his 50 followers were actually given land because he was hard working, very tenacious and wanted to stay in the Cypress Hills because we have stories of where there's actually creation stories up there. So it is important that we always continue these stories that we are passed on with our children."
Mary Culbertson, Treaty Commissioner of Saskatchewan noted that the Treaty 4 flag is a symbol of great progress when it is being put up in Saskatchewan towns and cities. She specifically noted the work happing in Swift Current towards reconciliation, and Monday's flag raising was another important step forward.
With Canada preparing to observe September 30 as the inaugural National Day for Truth and Reconciliation, Culbertson reflected that Commissioners were dispatched by Queen Victoria 150 years ago this year to begin negotiating the numbered treaties.
"We have to remember that 150 years ago, May 21st comes every year, and we celebrate Queen Victoria's birthday. We take that day off. It's a statutory holiday across provinces, across school divisions, across the country. But yet we don't talk about this was the queen that dispatched commissioners and Lieutenant Governors to negotiate treaties. We don't talk about the treaties when we celebrate May 21st."
"When we commemorate, we can celebrate our resilience as First Nations and Indigenous people. Or we have to commemorate, as non Indigenous people, the sacrifices that were made in order for this country to be build. That there are graves that our elders said were always there but those are now being uncovered. Children died and never came home, and it has to be taught in our schools. No matter how sensitive we feel that it is, this information has to be there because it can not be forgotten."
"When we wear orange shirts on September 30th, some of us may be able to take that day off, some of us may have to work, but we should remember those children who never came home. We should remember the people that went to those residential schools."
She reminded that indigenous children spent until the age of 16 in school before getting kicked out, as you could not go past a grade eight education in a residential school.
"They taught you to sew, how to cook, how to clean. They taught the boys how to farm. They didn't mean for our people to be doctors, to be lawyers, to be engineers. They didn't want people to be leaders. And it was all part of the whole plan of what Residential Schools fed into an that was assimilation and it was genocide."
"We have to commemorate those things that made this country. While many of us prosper and are wealthy, others of us are suffering yet today from the generational legacy that our grandparents had to endure, that were handed down to our parents generation."
Culbertson, as the first generation in her family to not have to go to Residential School, became a lawyer and has the distinction of being Saskatchewan's first female Treaty Commissioner.
She said it is important to understand that history going forward and to learn about each other, talk with each other, as everyone involved wants to build better lives for everyone.
Wendy Gervais, Regional Representative of the Métis Nation of Saskatchewan, was overcome with emotions as the Métis Nation flag was raised permanently in Swift Current.
"As I watched that Métis Nation flag being raised I almost wept because its been over 200 years in this region that our people have walked this region," she said during the September 27 ceremony.
"I have never been so more proud to watch that Métis Nation flag being raised today because as a nation we have been laughed at, pushed at, pushed down. We have been told we're not a people, we're not a nation. We are a people. We are a Nation. That flag up there, that infinity flag states that, for a nation that will go on forever and ever, just like the treaties."
"I think it's important that people understand the Métis Nation are citizens, we're a distinct and unique culture, just like any other indigenous nation. And we need to embrace that. We need to learn about that. We as Metis people need to learn who we are."
She felt the Truth and Reconciliation process will only be successful when people learn more about each other.
"Truth comes through education. So I think that every one of us here, that's here at this special event today, I think that's our goal is to speak the truth, to learn the truth, to understand the truth. Not to point fingers at people," Gervais said.
"We're here. We're not going away. So we need to really find a way of how we're going to work together. We have to educate our young ones. Educate each other. Understand. That's the truth. Reconciliation will follow through actions. And the truth isn't easy."
Swift Current Mayor Al Bridal noted it was important to take this step as a community by recognizing the past and pledging to work together in the future.
"Today we are gathered together to celebrate a celebration of community, of bringing people together, of recognition and reconciliation. We are here to acknowledge the tragedies of the past – tragedies from which scars still remain and from which new wounds are still being opened up. While we cannot take these tragedies back, we can stand together and ensure that history does not repeat itself ever. That begins by taking steps, such as the one we are taking today, and it only happens if we do this together as community," Bridal said.