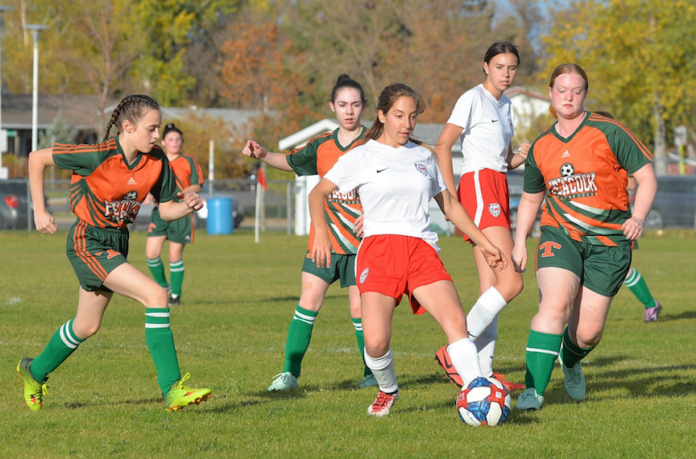 Both Swift Current Comprehensive High School soccer teams were in Moose Jaw High School Soccer League action on Wednesday.
The Ardens closed out the regular season with an 11-0 win over the visiting Moose Jaw AE Peacock Tornadoes.
The Ardens were led offensively by striker Heidi Spetz with two goals and two assists. Mapalo Mushoriwa added two goals and one assist, while Dani Meyer finished with a goal and two assists.
Bryn Haubrich and Addison Allen also scored twice as the Ardens finished the regular season with a 6-0 record. Tenille Willows and Mackenzie Metke added single markers.
Ally Metke finished with two assists, while rookie Rachel Noble added a single helper. Goalkeeper Olami Akinfiresoye earned the clean sheet in goal and helped distribute the ball to jumpstart the attack.
The Ardens now have the bye into the semi-final on October 12 as they look to win a 12th straight league title.
The Colts suffered a 3-0 loss to the Yorkton Regional Raiders in Regina. The Colts fell to 1-2-1 despite playing a competitive 9v9 match with plenty of scoring chances for both teams.
"The boys are looking forward to next week when we can have a little bit more depth on the bench. They're also really coming together as a unit and improving so many areas of their game. It's very promising," commented the Colts coaching staff.