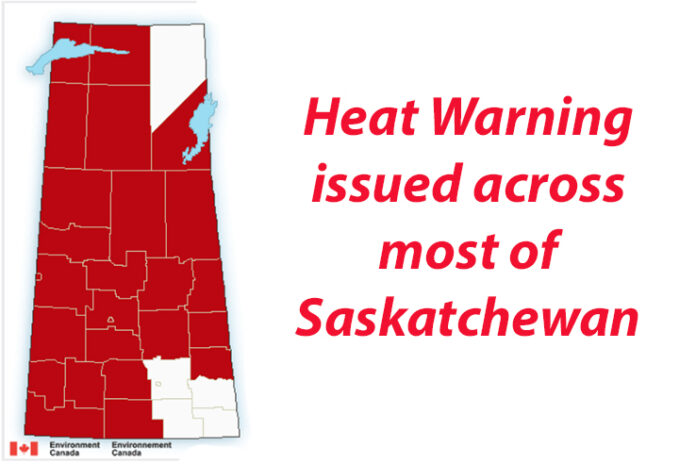 The impact of a heat wave which began in British Columbia will now be felt across most of Saskatchewan for the remainder of the week.
Environment Canada issued a Heat Warning for much of the province, with a prolonged heat wave setting in over Saskatchewan through to the end of the week.
Daytime high temperatures in the 30 to 35 Celsius range will be experienced over the entire Southwest, with overnight lows only cooling into the mid teens.
The entire Southwest will be experiencing daytime high temperatures ranging from 34 to 38 Celsius through to the weekend.
Saskatchewan is not forecast to reach the extreme temperatures experienced in British Columbia earlier this week. Lytton, B.C. set a new Canadian high temperature record of 46.6 Celsius on Sunday, June 27, breaking the old mark of 45.0 Celsius set in Yellow Grass and Midale, SK back on July 5, 1937. Lytton then climbed even higher on Monday, June 28, setting back-to-back all-time Canadian high temperature records by reaching 47.9 Celsius.
Earlier this month the Saskatchewan Ministry of Health issued a reminder for the public to take precautions during rising temperatures expected throughout the province.
Heat-related illnesses include: heat rash (skin irritation), heat cramps (muscle cramps), heat edema (swelling of hands, feet, and ankles), heat fainting, heat exhaustion and heat stroke.
Heat illnesses are preventable. Populations more susceptible to heat illnesses include infants, young children, the elderly and anyone who is ill or has chronic health conditions like breathing and cardiovascular problems.
Here are some tips to avoid becoming ill during periods of extreme heat:
Keep out of the sun during the peak hours of 11 a.m. to 3 p.m. if possible.
Wear appropriate sunscreen, a hat, sunglasses and light, loose fitting cotton clothes. Avoid any extreme physical exertion and keep in the shade whenever possible.
Stay hydrated with cold water and cold drinks, avoiding excess alcohol. Take cool baths or showers.
Keep your living space cool.
Keep windows that are exposed to the sun closed during the day, and open windows at night when the temperature has dropped.
Keep an eye on isolated, elderly, ill or very young people and make sure they are able to keep cool. Ensure that babies, children, elderly people, and pets are not left alone in stationary vehicles.
Check on elderly or sick neighbours, family or friends every day during the heat wave.
If you don't have air conditioning at home, know where to go to cool down. Public spaces that are air conditioned include malls, leisure centres and libraries. While there may be capacity restrictions and physical distancing requirements currently in place according to the public health order, these public facilities are currently open.
Even in high temperature conditions, you are required to abide by the current public health order regarding masking in public spaces as well as outdoors where a physical distance of two metres cannot be reliably maintained.
Heat stroke is a medical emergency. Call 911 or seek immediate medical assistance if you are caring for someone who has a high body temperature and is either unconscious, confused or has stopped sweating.
More information preventing heat illness can be found on the Government of Canada's website at www.canada.ca/en/health-canada/services/sun-safety/extreme-heat-heat-waves.