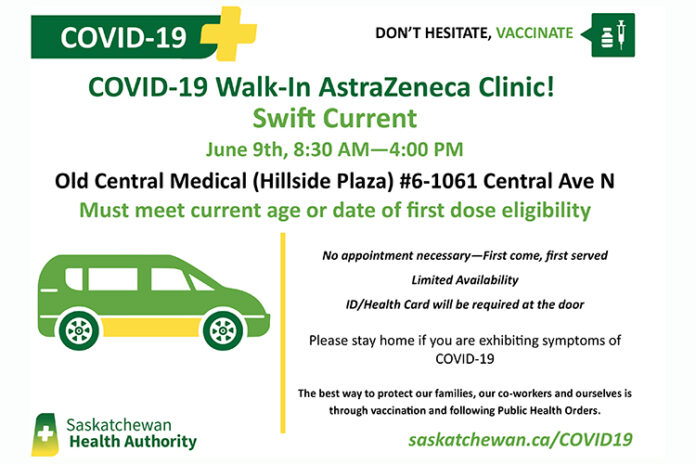 A trio of walk-in COVID-19 immunization clinics are planned for Swift Current for three consecutive days this week.
The walk-in clinics will be hosted at #6 – 1061 Central Ave. N. (the old Central Medical in the Hillside Plaza). The clinics will be delivering specific vaccines on specific days.
The June 9th clinic will be providing AstraZeneca second shots from 8:30 a.m. to 4 p.m.
The June 10th clinic will be for the delivery of the Moderna vaccine from 1 p.m. to 4 p.m.
The last of the currently scheduled walk-in clinics on June 11th will be providing the Moderna vaccine from 11 a.m. to 4 p.m.
All three clinics are first come, first served, and no appointment is necessary.
Saskatchewan residents aged 60 years and older are currently eligible to receive their second doses, as are all individuals who had their first dose on or before March 29.
Persons who received a first dose of the AstraZeneca vaccine may receive either the AstraZeneca vaccine or an mRNA vaccine (Pfizer or Moderna) for their second dose when eligible under provincial age or date criteria for second doses.
All residents aged 12 and older are eligible for their first dose of COVID-19 vaccine. Note that only the Pfizer vaccine has been approved for use with residents aged 12 to 17.