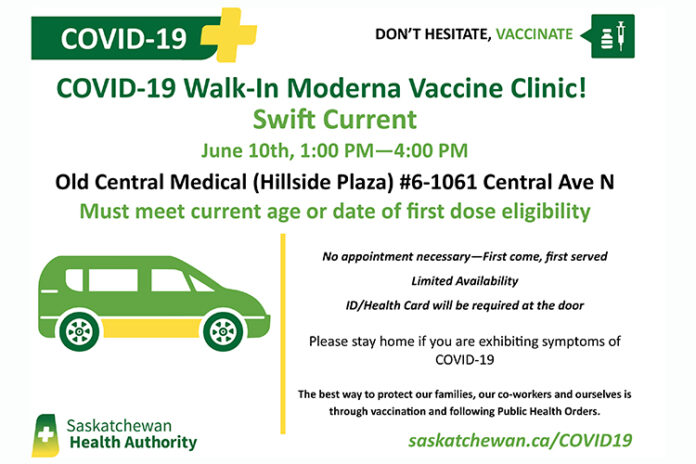 The Saskatchewan Health Authority will be lowering the eligibility age for second dose COVID-19 vaccine bookings down to ages 55 and older effective Thursday morning.
At 8 a.m. on Thursday, June 10, any Saskatchewan resident aged 55 and over will be able to book a second dose COVID-19 vaccination appointment.
Both the online saskatchewan.ca/covid19-vaccine booking system, along with the telephone booking system 1-833-SASKVAX (1-833-727-5829) between the hours of 8 a.m. and 9 p.m., will be booking for these additional ages starting Thursday morning.
Additionally, there are a pair of Moderna Walk-in vaccine clinics in Swift Current (#6, 1061 Central Ave. N., the old Central Medical office in the Hillside Plaza) running on Thursday, June 10 from 1 p.m. to 4 p.m. and Friday, June 11th from 11 a.m. to 4 p.m. for anyone seeking a first dose or individuals aged 55 and over looking or a second dose.
Both walk-in clinics are on a first-come, first-served basis. No appointment is necessary, residents can attend at their convenience.
Additional details for drive-thru and walk-in clinics, including the most up-to-date wait times can be found at: www.saskatchewan.ca/drive-thru-vax. Those attending drive-thru or walk-ins with previously booked appointments are encouraged to cancel, ensuring the next eligible person can receive vaccine.