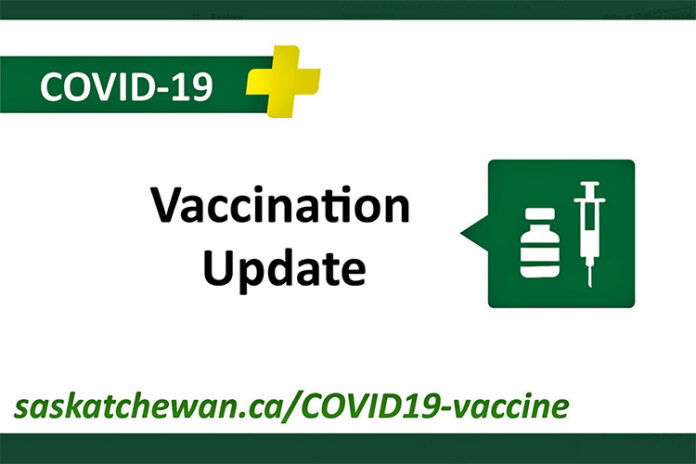 Saskatchewan's vaccination age eligibility age will drop three times this week as the provincial vaccination delivery system kicks into a higher gear.
The vaccination booking system began the week booking appointments for individuals aged 29 an over, with that age dropping to 26 on Wednesday, down to 23 on Friday, and further down to 20 by Sunday, May 16.
Both the online saskatchewan.ca/covid19-vaccine booking system, along with the telephone booking system 1-833-SASKVAX (1-833-727-5829) which is operational between the hours of 8 a.m. and 11 p.m., will be booking for individuals aged 26 starting at 8 a.m. on Wednesday, May 12.
Premier Scott Moe stressed the importance of younger residents choosing to roll up their sleeves and get vaccinated.
"Some young people may be thinking that they don't need to be vaccinated, but you do for a number of reasons," Moe said during a COVID-19 media update earlier this afternoon.
"First, you need to protect yourself. COVID is dangerous to people of all ages including our youth. And the variants of concern that are now present in higher concentrations in Saskatchewan have been shown to be more dangerous to young people as well."
"Secondly, you need to protect not only yourself but those around you. You don't want to spread COVID to your friends, to your parents, and ultimately to your grandparents, and all of the other people in your community that you may come in contact with each and every day."
"And third, we need everyone to get vaccinated so that we can get back to normal so that we can get back to doing all of the things that we have missed out on doing over the course of the past 14 months."
Moe also highlighted the Special Vaccination Leave which is in place which establishes that workers are entitled to three consecutive hours leave during work hours to receive a COVID-19 vaccination.
"So I would hope and I would ask that all employers are encouraging each and every one of their employees to get vaccinated and to do so as soon as possible, even if that is necessary for it do be during work hours. It's the best way for you to protect your workplace. It's the best way for you to protect your employees. It's the best way for you to protect your customers. And it's the best way for us all collectively to protect Saskatchewan."
Saskatchewan's Chief Medical Health Officer, Dr. Saqib Shahab said the success of the vaccination roll-out has been encouraging.
"More than half of Saskatchewan's population has received one dose. The vaccine is safe and effective. We have seen less than .1 per cent of breakthrough cases (illness after vaccination)," Dr. Shahab said. "No one expected the vaccines to perform so well, and they are."
"So if anyone has any questions outstanding about vaccine safety or efficacy do talk to your pharmacist, your physician, your healthcare provider, your public health nurse. Vaccines are safe and effective. They are coming in abundance now and we must make sure that we take the vaccines as soon as they come, which will help us to move closer to our goals of community immunity and a safe re-opening."
Additional information about prioritized front-line workers www.saskatchewan.ca/covid19-vax-eligibility , the status of Saskatchewan Health Authority drive-thru and walk-in clinics throughout the province www.saskatchewan.ca/drive-thru-vax or pharmacies offering vaccinations www.saskatchewan.ca/covid19-pharmacies can be found at the corresponding links.