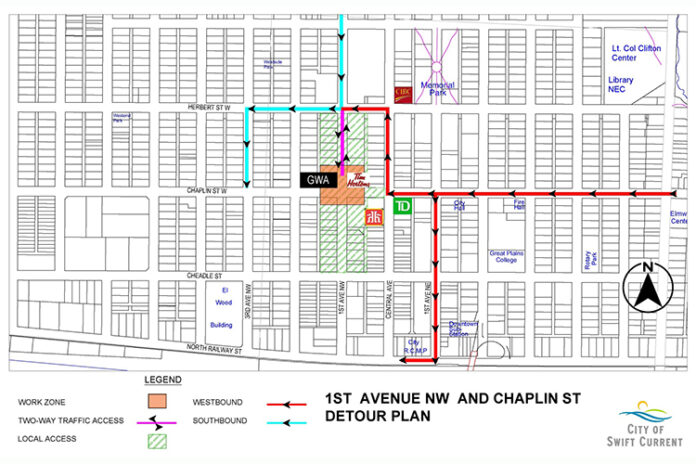 Starting Tuesday morning an important downtown Swift Current intersection will be closed for a six to eight week period in order to complete a major construction project.
The intersection of Chaplin St. W. and 1st Ave. N.W. will be closed for the remainder of May and into mid to late June in order to install new sewer and water mains, along with repaving the intersection and installing new traffic structures and electrical components to match the other downtown intersections which have been improved during recent years.
As a result of the construction project, traffic will be unable to pass through the intersection. In order to lessen the impact on surrounding businesses, the following restrictions will be in place:
Westbound traffic on Chaplin Street will encounter a closure and detours will be in place to guide northbound traffic along Central Ave. while southbound traffic will be routed along 1st Ave. N.E.
Southbound traffic on 1st Avenue Northwest will be restricted, with detours in place starting at Herbert Street West to direct traffic eastbound or westbound.
The 200 block of 1st Avenue Northwest will temporarily be changed to two-way traffic to maintain access to local businesses. Street parking on 1st Avenue Northwest will be reduced.
Access to specific properties may be limited or altered.
The construction project begins on Tuesday, May 11, and is anticipated to be completed within six to eight week, depending on weather conditions.
"We recognize that construction season causes unwelcome interruptions, especially when the project is downtown," explained Mitch Minken, General Manager of Infrastructure and Operations, "but the necessary upgrades to the deep utilities are coinciding with traffic light upgrades to minimize disruptions to the business community and the public."
Motorists should exercise caution, follow detours, or plan an alternate route during this time.