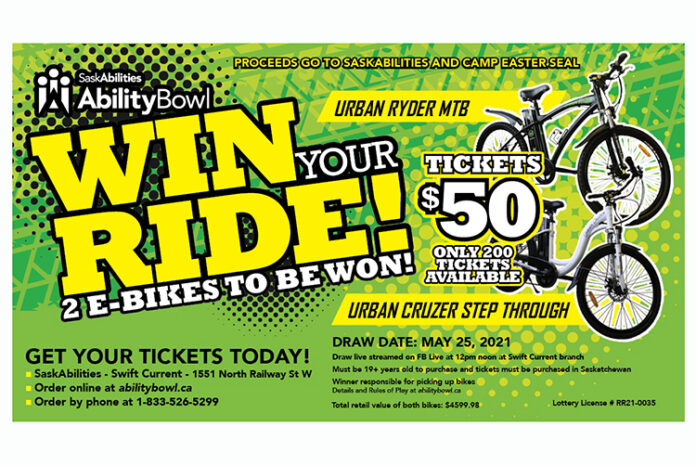 For the past 34 years, SaskAbilities Swift Current region has celebrated the season and the spirit of Ability Bowl. More than the opportunity to bowl, it is an event filled with camaraderie, goodwill, generosity, and above all else, fun.
However, the pandemic continues to pose a significant risk to public health with any large scale and in-person events. Due to this, SaskAbilities Swift Current region is announcing a number of inclusive, virtual fundraising events in the months ahead.
"We are pleased to announce a series of fundraising initiatives for 2021 that will continue to keep the spirit of Ability Bowl alive and well, while raising vital funds for individuals experiencing disability in southwest Saskatchewan, in particular, for local youth in Summer Fun and SLYP-Out programming, and Camp Easter Seal," commented Kimi Duzan, Regional Director of SaskAbilities Swift Current.
"We always look for new and innovative ways to develop partnerships and we look forward to working with ongoing and new supporters of SaskAbilities throughout the southwest."
First among the planned events includes a month-long raffle for a pair of electric bikes, "Win Your Ride" E-Bike Raffle. The winner will take home an Urban Cruzer and an Urban Ryder electric bikes, valued at $4,600 for the pair. Ticket sales began on April 23 and the draw will take place on Facebook Live at noon on May 25. Tickets are $50 each and there are only 200 tickets available, which can be purchased in person at the main branch location (1551 North Railway St W), or ordering online at www.abilitybowl.ca, or ordering by phone at 1-833-526-5299. Must be 19+ years to purchase and open to all Saskatchewan residents.
Following all provincial health guidelines, SaskAbilities is also unveiling "Ability Bowl Bubble Trivia" – highlighting many of the attributes participants have come to look forward to about Ability Bowl. Themes, competition, pledging, prizes, snacks, and celebrity trivia presenters, all from the comfort of your home and participating within your bubble. Some of the questions may even draw on your Ability Bowl trivia knowledge!
Further information, including dates, will follow about this event in the coming weeks.
Back by popular demand for its second year is the Superhero Bowl: Walk, Wheel, Run. This inclusive event, which encourages activity, healthy living, and fun, all while dressed as your favourite superhero, returns again from August 14 to 28.
SaskAbilities Swift Current has significantly expanded its client base over the past year with the introduction of virtual and remote programming, eliminating geographical barriers and becoming even more inclusive for clients in rural areas in Saskatchewan. The need for financial support continues to grow alongside the successful increase in client numbers.
Should you wish to plan a virtual fundraiser for SaskAbilities Swift Current region, we would be more than happy to assist with promotion and planning. Contact Candace Toma, Community Relations Coordinator, for assistance at 306-750-7427 or email abilitybowl@saskabilities.ca.