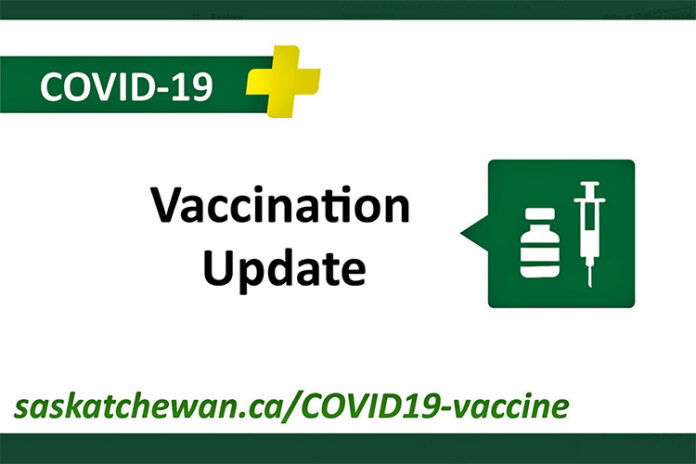 The Saskatchewan Health Authority will be decreasing the age eligibility for COVID-19 vaccinations twice this week, with the age dropping from 44 to 42 on Wednesday morning, and down to 40 effective this Friday.
Both the online saskatchewan.ca/covid19-vaccine booking system, along with the telephone booking system 1-833-SASKVAX (1-833-727-5829) which is operational between the hours of 8 a.m. and 11 p.m., will be booking for 42 year olds starting at 8 a.m. tomorrow.
The province is on track to lower the age down to 40 by the end of the week as a result of the expected shipment of 18,800 doses of Moderna vaccine and 31,590 doses of Pfizer vaccine this week.
Premier Scott Moe spoke on the importance of a high immunization rate to combat COVID during a COVID-19 media update earlier today.
"In the weeks ahead we will have our vaccination program eligibility opened up to everyone in the province. And we would encourage everyone to take the opportunity to get vaccinated. We have made every effort to make it as convenient as possible for you to do so. And by doing so it will lower our fatalities, it's going to lower our hospitalizations, and it's going to allow us to have a very positive conversation on where and how this province is going to exit COVID."
Saskatchewan's Chief Medical Health Officer, Dr. Saqib Shahab spoke about vaccination totals becoming a key metric in finding a way out of the pandemic.
At the present time 87 per cent of adults over the age of 80 have received their first dose, 84 per cent in the 70 to 79 age group have also been vaccinated, while 75 per cent of the 60 to 69 age group have also received their first dose. The recently opened up 50 to 59 age group have realized a 55 per cent first dose immunization rate, and those in the 40 to 49 age group are 23 per cent vaccinated. However, the province is aiming for higher numbers in all eligible age groups.
"I would challenge all of us to go for a higher vaccination rate, because that is absolutely essential. Vaccines are safe and effective. And they will have to be a key tool for us to come out (of the pandemic)," Dr. Shahab said.
"If we look at the 70 per cent vaccination rate for example. If the 30 per cent who choose to be unvaccinated are also those who are working outside the home, more social, we will continue to see high rates of transmission. We have to understand why transmission is happening. Why people are choosing not to get vaccinated. Vaccine hesitancy as individuals."
"Vaccines are not mandatory but they are essential. And unless we have a high vaccine uptake, that will be a key new metric."
Saskatchewan's seven-day average of new COVID-19 cases currently sits at 248, and on Tuesday the province recorded 224 new cases along with six new deaths, including one individual from the South West in the 80 plus age group.
Tuesday's media update also shared a concern over the growing impact of variants of concern to individuals across Saskatchewan. There have now been 2,277 cases of the B.1.1.7 UK variant detected in the province, with 1,580 of those cases in Regina and 38 in the South West. However, along Saskatchewan's western border there are a higher number of the P.1 Brazilian variant than the rest of the province, with the South West and North West both having eight cases, with South Central recording two and Saskatoon recording one.
"Variants that have reached Canada and Saskatchewan are resulting in more severe outcomes, and in particular among our younger population, many who have not been vaccinated to date," Moe noted. "We are seeing more young people in our hospitals and in our ICU's, and they are sicker and they are remaining there for a longer period of time."
"For everyone in this province who would be under the age 40, we are going to get you a vaccine as soon as we are able. But in the meantime I would ask you to please be careful. You need to follow all the public health orders and the guidelines that are in place. And that means not getting together in groups with your friends. I understand that this is difficult, and I understand how difficult that has been, in particular for those in your 20s."
"I know this is a very social time of your life and I know you want to be with your friends. You want to go to your university classes in person, you want to take part in all the social activities that occur in your community. And I know what you have sacrificed over the course of this past year. But please know that it is just going to be a little while longer. And you could lose so much if you contract one of these variants, or if you pass it along to one of your friends or to a family member."