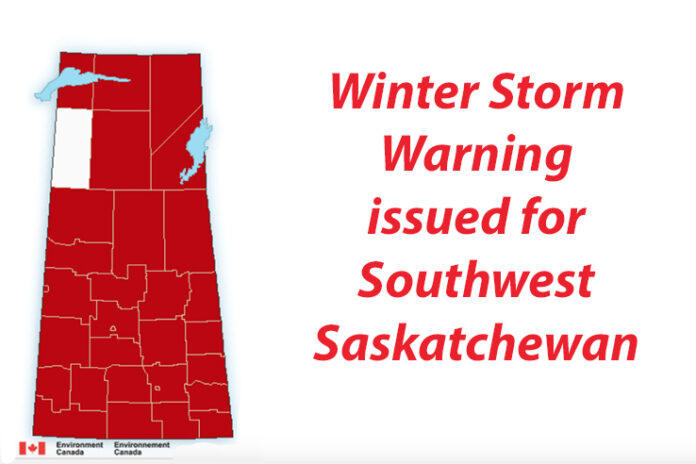 Many southwest residents will experience an abrupt return of winter weather on Monday, with a Winter Storm Warning issued much of the southwest region.
Environment Canada's weather advisory is forecasting severe wind gusts of up to 100 kilometres per hour, heavy snowfall amounts of 10 to 15 centimetres, blowing snow, and potential flash freeze conditions Monday.
"Winter will return abruptly on Monday as a strong low pressure system and cold front track eastwards across the central Prairies. Mild temperatures and rain showers tonight will quickly give way to severe winds, heavy snow, and blowing snow Monday morning as the front passes by. Severe northwesterly winds gusting to 100 km/h will develop by midday Monday and persist for the day. Sudden, significant reductions in visibility are due to snow and blowing snow are likely and whiteout conditions will be possible at times. Meanwhile, temperatures will quickly fall below zero, leading to a rapid freeze of surfaces such as roadways and walkways throughout the storm," the Environment Canada weather warning states.
Environment Canada is forecasting the worst of the winds, snow, and blowing snow will continue into Monday evening before finally easing through the night.
"Consider postponing non-essential travel until conditions improve. Prepare for quickly changing and deteriorating travel conditions. Visibility will be suddenly reduced to near zero at times in heavy snow and blowing snow. Take extra care when walking or driving in affected areas. Surfaces such as highways, roads, walkways and parking lots may become icy and slippery," the advisory warns.
The Winter Storm Warning was issued at 3:41 p.m. for the Swift Current-Herbert-Cabri-Kyle-Lucky Lake plus the Leader-Gull Lake forecast regions.
Shaunavon-Maple Creek-Val Marie and Cypress Hills, along with the Assiniboia-Gravelbourg-Coronach forecast regions were originally only placed under a Wind Warning, with forecasts of severe winds gusting to 100 kilometres per hour, along with the potential of blowing snow.
Environment Canada noted an additional warning or advisory could follow as the full extent of the heavier snow becomes clearer.