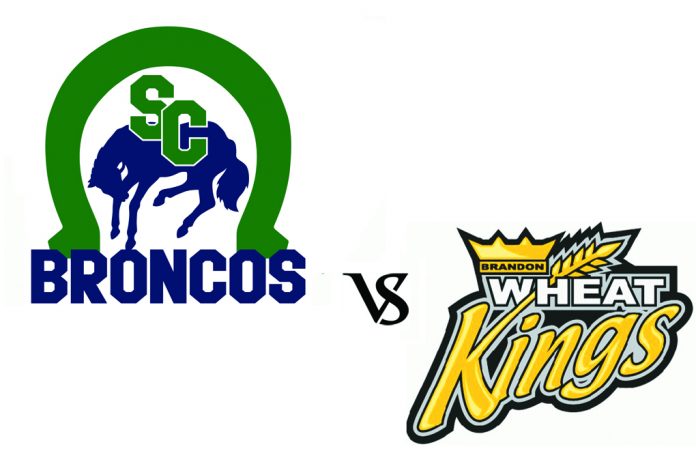 The Swift Current Broncos three-game point streak came to an end after they allowed five unanswered goals in a 5-2 loss to the Brandon Wheat Kings on Sunday afternoon.
After a scoreless opening frame, the two teams combined for five goals in the second period. The Broncos took the lead when Michael Farren converted a rebound for his sixth goal of the season. Defenseman Owen Williams joined a three-on-two rush and found the top corner to double the lead for the Broncos.
The Wheat Kings scored three goals in under 10 minutes to take the lead as Markus Sekundiak, Lynden McCallum, and Riley Ginnell all scored.
The Wheat Kings added an insurance goal from Chad Nychuk midway through the third period and Ridley Greig scored into an empty net to close the scoring.
Isaac Poulter made 34 saves to fall to 1-5-1-0 for the Broncos. Connor Unger stopped 29 shots to improve to 2-1-0-0 for Brandon.
Special teams played a role in the game as the Wheat Kings scored twice on seven man-advantages, while the Broncos finished zero-for-five on the power play.
The Wheat Kings improved to 6-2-1-0 with their third straight win.
The Broncos (2-6-1-0) will be back on the Brandt Centre ice on Monday to face the Regina Pats (2-4-2-0).