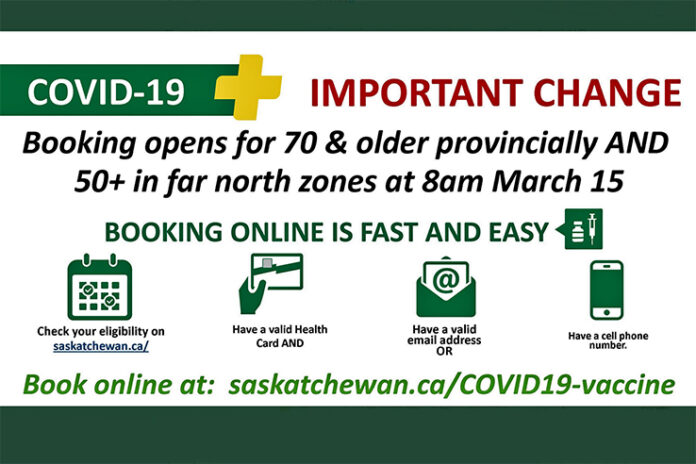 For the fifth consecutive day Saskatchewan's COVID-19 vaccination appointment system is expanding the age group who can book appointments.
Starting at 8 a.m. on Monday (March 15), any Saskatchewan resident aged 70 and over will be able to access the COVID-19 vaccination appointment booking system.
Both the online saskatchewan.ca/covid19-vaccine booking system, along with the telephone booking system 1-833-SASKVAX (1-833-727-5829) between the hours of 8 a.m. and 11 p.m., will be open for additional appointments starting Monday morning.
Saskatchewan's COVID-19 booking system launched to residents 85 and over on Thursday, for residents 80 and over on Friday, for residents 76 years and over on Saturday, and again down to 72 and over on Sunday.
Additionally, the province will be booking appointments for residents aged 50 to 69 who reside in Saskatchewan's Northern Administrative District.
Provincial health officials are directing vaccines to Regina this week in an attempt to slow the growing number of transmissions in Regina. On Monday a drive-thru immunization clinic to deliver the AstraZeneca vaccine will open to individuals aged 64 (with a birthdate between March 16, 1956 and March 15, 1957) on a first-come, first-served basis. Regina currently boasts 484 of Saskatchewan's 1399 total active cases. Many of Regina's outbreaks are a result of people of going to work and public places while symptomatic.
VACCINE INFORMATION:
What you need to know about appointment availability
· Immunizations are only available by-appointment at this time. Drop-in and mobile clinics, as well as access through participating pharmacies will be available in the future.
· You can have a friend or family member call to register or schedule your appointment for you. Identification will be required at the time of the actual appointment.
· You will receive confirmation soon after your appointment has been made. There is no need to call the phone line to confirm appointment details.
· Clinic availability is dependent on vaccine availability. Additional clinics will be added as Saskatchewan receives more doses.
· At this time, existing demand for vaccine far outweighs our available supplies.
· The booking office does not have access to extra appointments than what is available online.
· Second dose appointments are not available at this time. Public communication will take place once these appointments become available.
Individuals are NOT eligible to receive COVID-19 vaccine at this time if:
· You have been diagnosed with COVID-19 in the last 90 days.
· You have received any other vaccine in the last 14 days.
· You have received a dose of COVID-19 vaccine previously elsewhere.