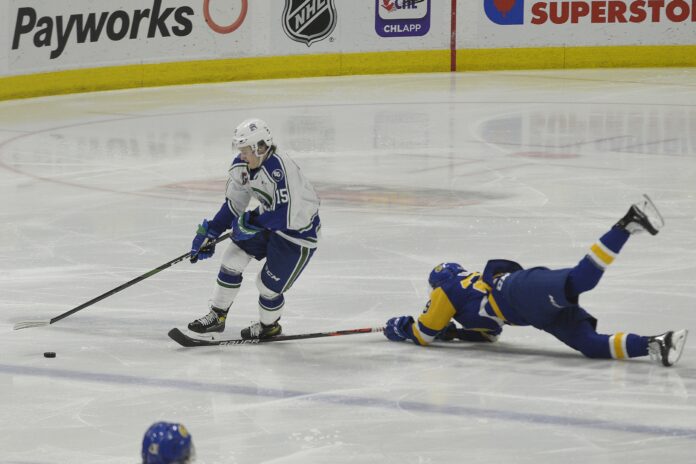 After 367 days between games, Raphael Pelletier was relieved to play a competitive hockey game when the Swift Current Broncos opened the 2020-21 Western Hockey League regular season on Saturday.
"It was quite a relief after a full year. None of us had really been through any of this, so we're taking it one step at a time. It definitely felt good to get some touches in. I just loved every minute of it, can't complain," said Pelletier.
The Broncos will play all 24 of their games at the Subway Hub Centre in Regina with no spectators.
"It definitely felt a little different without the crowd. You're used to all that noise and that nervousness. Honestly, for me it didn't really affect me. I guess we kind of approached it as just a normal game that we have to approach one shift at a time. I didn't really notice anything that different honestly."
The Broncos lost the game 4-2 when the Saskatoon Blades scored three unanswered goals in the third period.
"Overall, we had a solid first and second [period]. We were with them for both of those periods. It was just being more assertive I guess in the third, not letting off the gas, I think that's what caught us when they got two quick ones on us and kind of just shut us down. We still have a lot to work on. I think just being more aware in the third and just playing a simpler and smarter game will get us to where we want to be."
The line of Pelletier, Josh Davies, and Caleb Wyrostock accounted for both goals and Pelletier finished with a goal and assist after opening the scoring only one minute into the season.
"I had lots of fun playing with Davies and Wyro. I think we just threw everything to the net. We didn't play that skilled of a game, there were times, but simplifying was just the best way to put it. We took it to the net, forechecked, and just played our game and it resulted in the end."
Pelletier was acquired in a trade from the Edmonton Oil Kings in September of 2019. The Legal, AB native finished with two goals and four assists in 49 games with the Broncos last season.
"Definitely over the offseason I just wanted to be that leader in the room. As a second-year guy just being that role model I guess and taking every day to be a better player and person. Nothing stats related, that comes with your hard work. I think just being that good teammate and pushing your teammates to be the best they can be."
The Broncos had a quick practice on Sunday morning before they play the Winnipeg Ice on Monday at 8 p.m.
"I think it just starts with practice and just our attention to details. It's definitely a shortened season, so we have to take everyday to our advantage and not let off. I know other teams are going to be working just as hard, so we've got to match that if we want to prove something," he said.
The Broncos finished last in the WHL 2019-20 as they continue to rebuild from their 2018 championship campaign.
"I know we are one of the underrated teams where they will take us lightly because they look at our past record. We have to push the pace everyday and just leave it out there," said Pelletier, who hopes the Broncos can make some improvements and enjoy themselves over the next 23 games.
"I think we're not worrying too much what's in front of us and just being in the moment. I know these two months are going to fly by, so I think just taking every day as a learning block because we have a young team. I think using my experience, not that I have much, but just using it to teach our rookies and then just giving everything we have in the tank."