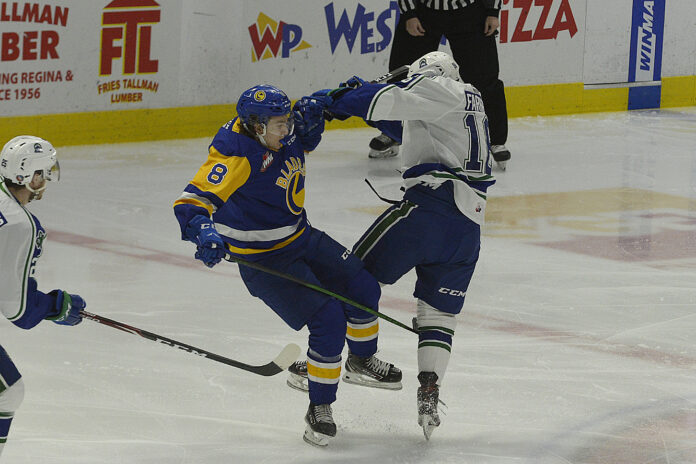 The Swift Current Broncos opened the 2020-21 season on Saturday with a 4-2 loss to the Saskatoon Blades in Regina. The Broncos held a pair of leads, but the Blades scored three unanswered goals in the third period to pull out the win.
Kyle Crnkovic and Tristen Robins scored 37 seconds apart to turn the Broncos 2-1 lead into a Blades lead before Brandon Losowsky scored late to seal the win.
The Bronco took the lead exactly one minute into regulation when Raphael Pelletier slapped home a shot from the left face-off dot with assists from Alex Moar and Caleb Wyrostok. Isaac Poulter made 13 saves in the opening frame to keep the Blades off the scoreboard.
The Blades tied the game 6:41 into the second period when Brandon Lisowsky one-timed a puck under a sliding Poulter. The Broncos took the lead back 5:08 later when rookie Josh Davies shoveled home a loose puck for his first WHL goal.
Wyrostok and Pelletier both picked up assists to complete two-point outings.
Poulter took the loss with 36 saves on 40 shots. Nolan Maier earned the win with 23 saves on 25 shots for the Blades.
The Broncos were unable to score on five man-advantages, but they did kill off both shorthanded situations.
The Broncos will return to action on Monday when they battle the Winnipeg Ice at 8 p.m. at the Subway Hub Centre in Regina.