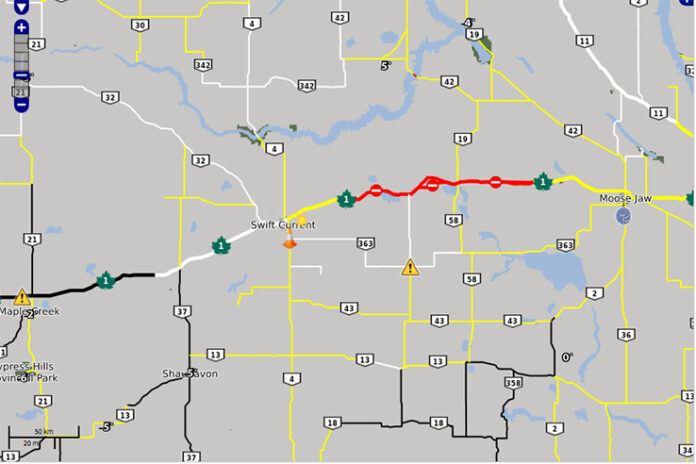 Driving conditions are slowly improving across the Southwest after Wednesday's high winds and blizzard conditions.
As of 10:30 a.m. the TransCanada Highway from Rush Lake to Mortlach remained closed because of drifting snow and significant portions of icy and slippery sections. After being closed for over 12 hours, the TransCanada was re-opened from Carmichael to Swift Current.
Environment and Climate Change Canada reports that an intense Alberta clipper pounded Saskatchewan and Alberta on Wednesday, with a number of communities reporting over 100 kilometre per hour wind gusts.
Saskatchewan's record peak gust was recorded in Bratts Lake, with the 143 kilometre per hour gust equivalent to an EF-1 tornado on the Enhanced Fuita scale for rating tornadoes. Additionally, wind recording sensors at a number of weather station went off line during the peak of the storm.
The combination of wind and snow caused whiteout conditions which closed a number of highways across the province, but poor driving conditions remain because of the freezing rain and significant snowfall which accompanied the weather system.
Environment Canada is reporting the following official peak gusts in the Southwest from the January 13 storm:
Mankota – 120 kilometres per hour.
Eastend/Cypress Hills – 111 kilometres per hour.
Swift Current – 109 kilometres per hour.
Maple Creek – 104 kilometres per hour.
Val Marie – 102 kilometres per hour.
Leader – 100 kilometres per hour.
Ironically, the weather system also pushed warm air across the province in advance of the poor weather, so 14 communities recorded new daily warm weather records. The lone record in the Southwest occurred in Swift Current where the temperature climbed to 7.3 Celsius, breaking the previous mark of 6.7 Celsius which occurred over a century ago back in 1894.
SaskPower continues to deal with multiple outages across the province caused by wind and tree damage to power lines. For the most up-to-date information about outages visit www.saskpower.com.