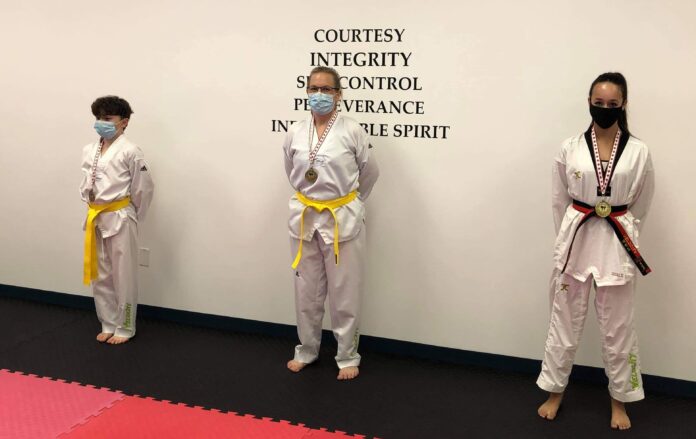 Three members of Velocity Taekwondo picked up medals in the Korean Consul General Cup Online Taekwondo Championship in poomsae.
Cole MacIsaac, 9, won a bronze medal in the Yellow Belt Division. The young athlete has been training in taekwondo for the past four months.
"Part of it was to release my anger and to do something with my mom," he said.
Cole added that his favorite part of taekwondo was poomsae. He would like to earn his blackbelt, hopefully in the next five years.
Cole's mother, Jo-Lynn MacIsaac also won a Yellow Belt bronze medal after 26 years away from the sport.
She trained for four years in taekwondo and was preparing to test for her blackbelt when she destroyed her knee as a teenager.
"Just love of the sport. I actually lost a significant amount of weight and wanted to do something with my son. We decided to give this a go again," she said of her return to the Korean martial art.
She is starting all over on her rank in the sport.
"I would love to be able to actually get my black belt this time around."
Her return to taekwondo has come at a new studio in the midst of a global pandemic.
"It's been interesting. But we're a small group and we've made it work. We've had our workarounds. I'm just very grateful that we've been able to continue on."
Both mother and son are looking forward to an online event that is being put on by Alberta with video submissions due by January 22.
Brooklyn Hir won a Black Belt gold medal in the online event. Hir, 14, has been practicing taekwondo for the past six years and is currently a second degree black belt.
"We did get this notification kind of on short notice, so we didn't get much extra training for this. But I did some extra training every day after school for about a month just on my own," she explained.
Hir recently earned her second degree black belt and is now likely at least two years away from a third degree test.
"I want to probably be an instructor. I'm probably going to be entering into online Nationals this year, so I want to do well in that and maybe go to some Nationals or some other huge event in person and do well."
She usually trains two or three times a week.
"It's a really interesting sport to me and I feel like the team portion of it is really important because a taekwondo team is a family and it's just a really strong bond and it keeps you motivated to keep going. I've also just been motivated to be a role model and get to the highest belt that I can achieve."
Hir has been excited to train at a brand new martial arts studio.
"It's been hard with the covid restrictions lately. But I think it was an amazing decision… I think it was a great decision and the instructors are amazing and it's brought us as a team a lot closer."
Hir is currently working to prepare for 2021 Online Poomsae Nationals, which will be held from February 13 until March 7.