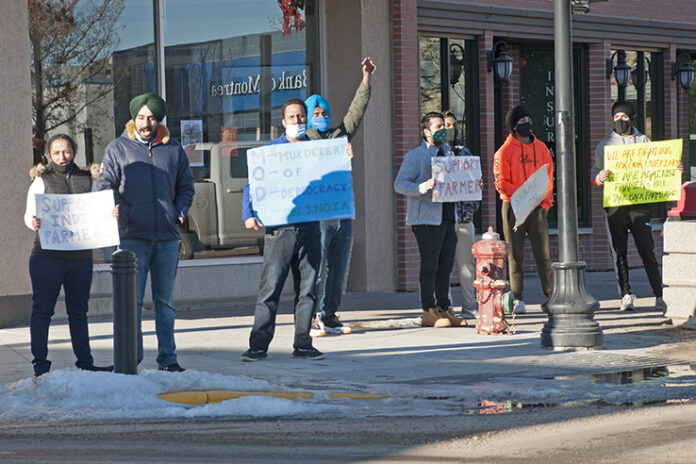 A boisterous protest was held in Swift Current's downtown on Sunday afternoon when 30 people gathered in solitary with farmers in India who are objecting to a series of government changes to agriculture which hinder their livelihoods.
There were large scale peaceful protests hosted coast-to-coast across Canada on December 6, and Swift Current's hour long rally also supported India's farmer protests against Prime Minister Narendra Modi's administration.
Swift Current protest organizer Gurpyar Singh noted the group is concerned with a trio of government decisions which were forced onto the farmers, including the removal of a farmers' ability to sell grain to the government at a minimum guaranteed price, and they are now forced to sell to private buyers who are likely to pay less than former guaranteed prices. The new rules will also impact storage of farm produce, which will benefit the corporations more than small farmers.
"We calculate that we can get this much profit. But now they are taking away that fixed price. They are saying we do not give you the fixed price. That the main thing, we do not want that," Singh said during Sunday's rally. "We want that benefit that we were getting earlier. They are stealing from us."
In addition to this forced contract farming, they were protesting for a resumption of guaranteed prices which would essentially be a guaranteed minimum wage for small farmers.
Singh explained that farmers had previously protested in India's main agriculture producing states, but recently have blocked key highways around the capital city of Delhi as they have taken further actions to have their voices heard.
The majority of Swift Current's protest participants were born in India and have come to Swift Current to work or further their education.