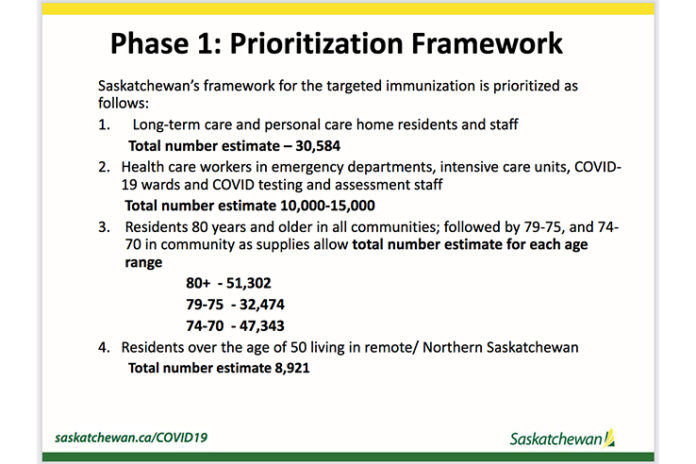 Saskatchewan has arrived at a turning point in response to the COVID-19 pandemic with the announcement of a targeted vaccine delivery plan.
The province unveiled their delivery plan strategy on December 9, with the first 1,950 doses of a vaccine scheduled to be delivered through a pilot program at the Regina General Hospital as early as December 15. The vaccine will be provided to healthcare workers in acute care facilities across Regina. This will immunize healthcare workers in Intensive Care Units, Emergency Departments, COVID units, plus Saskatchewan Health Authority workers in testing and assessing centres in Regina.
Earlier on Wednesday, Health Canada authorized the Pfizer-BioNTech vaccine after a two month safety and efficacy review of the vaccine.
"The vaccine is really good news! We can't underestimate how good of news this is and what a remarkable achievement it is for us to have a vaccine 10 months into a pandemic. But it will take time, starting with those at highest risk. It will take time to protect the most vulnerable first," Saskatchewan's Chief Medical Health Officer, Dr. Saqib Shahab said during Wednesday's press conference.
Premier Scott Moe noted that a vaccine is the finish line in this long fight against the virus.
"This is how life will get back to normal once we have delivered a safe and effective vaccine to a significant portion of Saskatchewan's population," Moe said.
Saskatchewan now expects to receive portions of a vaccine sooner than previously anticipated, and in a larger quantity than first expected. The province is preparing to receive 10,725 doses per week from Pfizer, while they will also be receiving a yet to be determined amount of the potentially soon to be approved Moderna produced vaccine during the first quarter of 2021.
"The province wide delivery of a safe and effective vaccine will be a massive undertaking," Saskatchewan Health Minister Paul Merriman said. "The good news is Saskatchewan has a very strong record when it come to immunization, both in terms of wide scale delivery of vaccines, and in terms of uptake from Saskatchewan people."
After rolling out the initial vaccine pilot, the Saskatchewan Health Authority will shift their focus to a Phase One framework which focuses on Saskatchewan's priority populations beginning with healthcare workers, long term care residents, plus vulnerable populations which include seniors aged 80 and over along with residents in remote northern communities. This will impact the estimated 30,584 residents and staff of long term care and personal care homes, between 10,000 and 15,000 healthcare workers in emergency departments, intensive care units, COVID-19 wards and COVID testing and assessment staff.
Phase Two of the strategy switches to widespread access of the vaccine though an age-based approach, tentatively set for April 2021. The vaccine will be delivered across the province through mass immunization clinics, plus through primary care providers, nurse practitioners, and pharmacists.
There are also an estimated 51,302 Saskatchewan residents aged 80 and over for when they move into the priority framework criteria. Additionally there are 32,474 residents aged 79 to 75, with 47,343 in the age 74 to 70 category.
Dr. Shahab is hoping with a successful vaccine delivery, Saskatchewan will start to see the vaccine protecting the most vulnerable by February to April. And after starting with the 80 year old and plus age group and then delivering by decreasing five year age increments, that more at risk individuals will be vaccinate from April through June.
"Later in the summer and into the fall all of us will be able to get vaccinated, and that is the way we will come out of this pandemic," he said.
"It will take some time and we need to be patient and continue to observe all public health measures."
"Especially the measures we have currently in place which includes mask use at all times, unable to visit each other between households. It's very tough and it's going to be hard during the holiday season, but it is essential to keep our numbers low and allow the vaccine to start protecting the most vulnerable initially."
Dr. Shahab noted that health officials will be closely monitoring the effectiveness of the vaccine starting with the first vaccinated individuals in long term care homes. And as no vaccine is 100 per cent effective, health officials need to understand how effective the vaccine is, how long its effectiveness is, and after monitoring those individuals then the province can hopefully start relaxing some of the public health measures as they understand the effectiveness of the vaccine over time.
"We can't achieve community immunity or herd immunity until all of us are vaccinated, so that will start later in the summer and continue into the fall," he said.
"Ultimately we'll have to see how vaccination allows us to have a very different fall and winter in 2021 compared to this year."
As for the full strategy for the delivery, the SHA will be launching a PR campaign this month to highlight to the public the importance of getting vaccinated. The campaign will also focus on providing accurate and timely information about the vaccine.
"The communication focus is going to focus on the safety of the vaccine, ensuring that there's accurate information out there for individuals. And the most timely information as the world starts their vaccination programs," explained Saskatchewan Health Authority CEO Scott Livingstone.
There is also a dedicated web page www.Saskatchewan.ca/COVID19-vaccine which contains the full details of the vaccine rollout strategy.
"It's important that folks understand, and this will be part of the communication process, is starting the vaccination process doesn't mean that the other things that we're doing today to help mitigate the impact of the virus on our population they need to continue until such a time that the vaccine has done our job across the entire population, and that will take months. But the vaccination is absolutely critical to us returning to our new normal," Livingstone added.