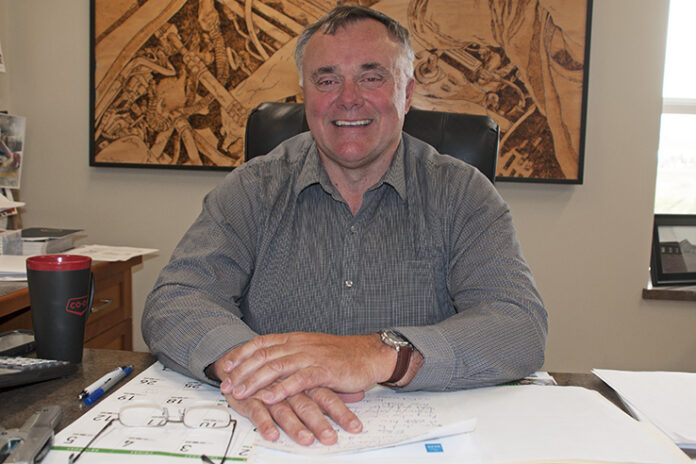 Al Bridal is returning to Swift Current City Council as Mayor after defeating incumbent mayor Denis Perrault in Thursday's municipal election.
Bridal, a former two-term City Council member in the late 1990s and early 2000s, posted a 2,497 to 1,900 win over Perrault to unseat the one-term mayor.
"I'm very happy," Bridal said in his first interview after the final election results were announced on Thursday night. "To think that I gave them good reason to vote for me and put their faith in me, it makes me feel very, very humble."
Bridal had a 145 lead after the Special Polls/Mail In Ballots and Innovation Credit Union iPlex poll was counted early in the evening. He extended his lead to 442 after the advance polls were tallied and was up by 529 after the Trailview Alliance Church poll was counted. He was officially pushed over the top when the Chinook Golf Course poll sealed his win by a 597 margin at approximately 9:15 p.m.
All posted results are unofficial until declared by the Returning Officer on Monday, November 16.
Bridal noted that he will quickly be getting to work in looking at a few areas of concern he raised during his campaign.
"As the leader of our City in a new capacity I'll give it maybe a little bit different direction in a few things, with finances especially. The debt, we have talked a fair bit about that. The debt and the tax load I want to take a serious look at both of those. I want to leave our City in a better position financially for my children and my grandchildren, and all the citizens' children and grandchildren."
Bridal agreed that the election results produced a night of change for municipal politics in Swift Current, as there will be three new faces and one former councillor joining just two incumbents councillors to round out city council.
Rookie councillor Leanne Tuntland-Wiebe was the top vote earner with 2,611 votes, with incumbents Ryan Plewis and Pat Friesen placing second and third respectively with 2,303 and 1,858 votes. Tom Christiansen earned his first spot on council by placing fourth with 1,745 votes. John Wall will make a return to the council chambers after taking fifth with 1,674 votes. Newcomer Ryan Switzer will also have a seat at the council table after his 1,568 votes edged incumbent Ron Toles who places seventh with 1,530 votes. Toles had trailed by three votes with the final Chinook Golf Course poll to come.
Incumbent councillors Bruce Deg and Chris Martens were defeated in their bids to return as second term members of council.
Tuntland-Wiebe was overwhelmed by the voting results which placed her as the night's top vote getter during her first foray into municipal politics.
"I can hardly breathe and I was shaking and I was pretty much overwhelmed at the votes that I got and being number one. I didn't expect that. So I'm overwhelmed and I'm very grateful," she said on election night.
"It was overwhelming the support that I had. I knew I had good support, but I was totally overwhelmed tonight."
She felt that her campaign message and being personable resounded with voters.
"I think the fact that people found me sincere and approachable. And I wanted them to know who I am, and when I say what I say I mean it. I am approachable. I want you to talk to me, and I will try and help you."
"I think people wanted their questions answered. And that's the whole thing I was going for too is I've got questions that I need answers to. And I think that resonated with people."
Tuntland-Wiebe said the night's overall results clearly pointed to voters wanting the city to take a different direction.
"I think people wanted a change. In any government when people are frustrated or people have questions that aren't being answered, or they see something that they don't like, they usually vote for a change. And I think that voice was pretty strong tonight."
She is excited to hit the ground running as a new council, knowing he has lots to learn in order to get up to speed on issues.
"The council that has been voted in tonight is strong. There's so much experience on it. I'm really excited to work with Pat Friesen, her being the only other woman on council, and her experience. And John Wall, what better mentor could I ask for. And Al Bridal has experience as a councillor. I think he can step right into the position of mayor. He's got that experience. He's got a direction. He knows where he wants to go. And he's got experience on school boards. And he's got kind of an all around knowledge of what's going on in the city. I'm excited to work with everybody. I'm excited to work with them side by side and have their backs."
The final results for city council were:
Leanne Tuntland-Wiebe – 2,611
Ryan Plewis – 2,303
Pat Friesen – 1,858
Tom Christiansen – 1,745
John Wall – 1,674
Ryan Switzer – 1,568
Ron Toles – 1,530
Chris Garner – 1,374
Chris Martens – 1,258
Bruce Deg – 1,244
Warren Hope – 1,088
Wayne Cormier – 999
Abbie Houston – 944
Courtney Stewart – 787
Sheldon Reinart – 609
Ken Linsley – 601
Kathy Neufeld – 547
Ricardo Morin – 297
Marie Rose Lewans – 239
In the race for the Public School Board, Dianne Hahn and Tim Ramage earned re-election to the Chinook School Division's Board of Education, while Ken Duncalfe joins as a rookie board member.
Dianne Hahn – 1,432
Tim Ramage – 1,260
Ken Duncalfe – 1,074
Shawn Mullin – 1,068
Dan Kerslake – 952
Randy Beler – 866
The Separate School Board seat was won by Ted Wallin by an 346-111 margin over Lamont Dyck.