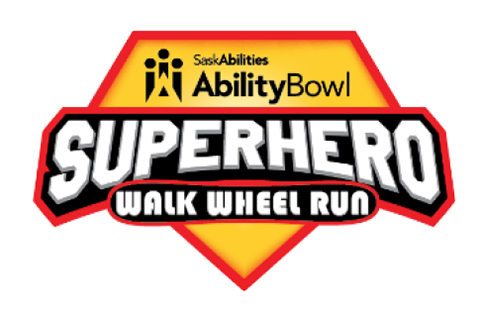 The spirit of Ability Bowl is alive and well across southwest Saskatchewan, as SaskAbilities Swift Current recently celebrated the finale of Superhero Bowl: Walk, Wheel, Run.
A two-week long fundraising drive took the place of the 33rd Annual Ability Bowl, which was impacted by the outbreak of the coronavirus pandemic in April 2020. Superhero Bowl: Walk, Wheel, Run raised a total of $71,280.85 in support of programs and services offered by SaskAbilities for individuals experiencing disability in Swift Current and the surrounding areas.
Participants of the Walk, Wheel, Run were encouraged to increase their level of active living by walking, wheeling, or running in this inclusive, virtual event. Candace Toma, Community Relations Coordinator at SaskAbilities Swift Current, was impressed with the creativity of this year's participants, particularly with a new event.
"We had surfers, we had some half-marathons completed, and we had some people even out hiking at Cypress Hills. It truly was inspiring seeing how everyone came together, safely in their bubbles, to support SaskAbilities and the work that's done across the southwest with individuals experiencing disability."
The top fundraiser for the event was Madison Lawrence, a local wheelchair racer who raised a total of $2,335. Honouring a pledge to race one meter around the track at Swift Current Comprehensive High School for each dollar that was raised in her name, Madison completed 2,400 meters with the support of her family.
Swift Current Municipal RCMP members also put in a team with the goal of raising $1000 for SaskAbilities, planning to run one kilometer per $100 raised in full police-issued gear, weighing an additional 30 pounds. In total, seven police officers ran the track at the high school in support of SaskAbilities and raised more than $1,100 as a team.
As Ability Bowl is such a longstanding tradition in the Swift Current area, Regional Director Kimi Duzan was pleased to see how this transitional event was embraced by the community.
"Like our services to youth and adults experiencing disability, Ability Bowl was refreshed and grew to involve new and different types of events, sponsors, participants, in new and exciting ways with the support and encouragement from many across the southwest and SaskAbilities is grateful for the continued support."
The top 10 individual fundraisers for Ability Bowl 2020 (including Walk, Wheel, Run) were:
1. Madison Lawrence
2.Dorothy Quebec
3. Mailyn Janette Leyeza
4. Hayden Linsley
5. Kerry Andres
6. Jarrod Schellenberg
7. Avery Andres
8. Carley Martinson
9. Todd Vallee
10. Aaron Matthews
Donations for this event can still be made online at www.abilitybowl.ca or mailing cheques payable to SaskAbilities to the Swift Current branch – 1551 North Railway Street West, Swift Current, Saskatchewan, S9H 5G3. Inquiries about future Ability Bowl sponsorship or community partnerships can be made by contacting Candace Toma at 306-750-7427 or ctoma@saskabilities.ca.