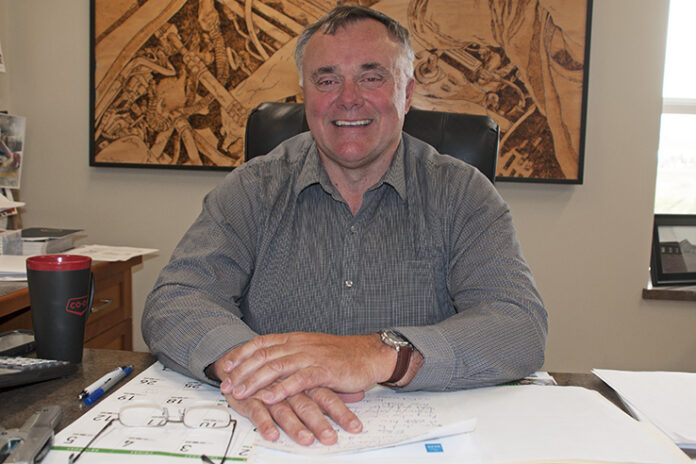 Long-time city resident and business owner Al Bridal is taking a run at Swift Current's top chair after announcing he will be running for mayor during the upcoming municipal election November 9.
Bridal, a former two-term City Council member in the late 1990s and early 2000s, feels his lengthy service in the community has prepared him for tackling the mayor's duties. Bridal sat on the school board in the 1990s and was again elected to serve on the Chinook School Division board in 2016. He served on the Great Plains College board for four years, he sat on the Prairie Pioneers Independent Housing Board for four years and served as chair for a year and a half. Additionally he had a two decade connection to the Swift Current Soccer Association as a referee and board member.
"My whole life I've been a community man. And so for me this is just an extension of that. I've looked at our city and I hope that maybe I can give a different view than it has right now," Bridal said in unveiling his mayor's bid this past week.
He is entering the mayoral race attempting to highlight some concerns with spending and taxation.
"I've looked at some numbers and we are collecting a lot more tax dollars than we collected in the past. Four years ago we were collecting $11 million and now we're collecting over $18 million just in tax dollars from our businesses and from our homes."
"And we have more debt that we had four years ago. It is a lot, it's $10 million more, but we've come through, with the exception of last year, the year's before that we've come through 10 years of great financial times. During great financial times you shouldn't be adding a lot more debt, or I don't believe you should. I think you should be paying it down."
"So we're collecting substantially more taxes. We're adding more debt. And why? The simple reason for me is I think it boils down to wants and needs."
He notes that while the community needs safe water, police and fire protection, good roads and other important amenities and services, there are numerous discretionary spending items that have seemed to have become a priority.
"But there's been a lot of people at City that 'want' things. And at the City level, be it the bureaucrats themselves or be it community people, they want things. And these 'wants' are what cost money."
And while he is not advocating for a bare bones budget style, he points to a series of wants which are impacting taxes. For one instance he said the digital billboard at City Hall came with a $100,000 price tag, however on the very next block there is a billboard at Innovation Credit Union which the city could have rented space on.
"It's just a simple little thing on a huge multi-million dollar budget, but all the way along the line there's all sorts of things just like that where money gets spent."
"Is it a want or a need? It's just a want. It would be nice to have a reader board so we could put all our information up there. Well maybe instead of having our own reader board we could have just rented some space on the one that is just on the next block down for a tenth of the price or less and still got that information out."
He noted that last year the city built a covered storage for rented golf carts at the Chinook Golf Course at over $100,000, an expenditure which is not a need for rented carts.
He also pointed to the installation of irrigation for a cricket field at the Windscape Kite Festival grounds.
"Those are things that somewhere along the line I think we've had a disconnect in wants and needs, and people have been convincing themselves that wants are actually needs."
Bridal argued that there is not a revenue problem in Swift Current, but rather an expenditure problem. If the City is taking $7 million more annually in taxes over the past few years, there is a need to control expenditures.
"The budgeting process, council is supposed to be very interactive with it. And in the past they were, and now I'm not sure if they are anymore to be perfectly honest, and I would like to have that interactive back."
He also contends that the city had been successful in the past in hiring work out, but they now have higher equipment and vehicle costs in addition to having to hire more people to run this equipment.
"Our City, we actually have a glut of equipment. We have two hydrovac trucks," he explains. "Do we need two of them? Do we have one crew to run them or do we have two crews to run them. They don't run all the time. In the past we would contract that out. So it's kind of a fine line."
Bridal said that having sat at the council table before, he feels he can be more impactful as mayor.
"As a councillor you sit on the sidelines a certain amount. Council still has to vote things in, but the mayor has more of a direct input into guiding what happens at council meetings, guiding what happens at the City."
"As mayor I want to have input into saying lets talk about how many vehicles we have in Swift Current. Let's talk about what our wants and needs should be here. Lets talk about our young families being able to afford to pay their taxes and still live here."
He argues that the City will continue on their current path until a change is made at the polling booth.
"I really believe we have more than enough revenue coming in, just our expenditures are too high. That's the real crux of why I'm running."