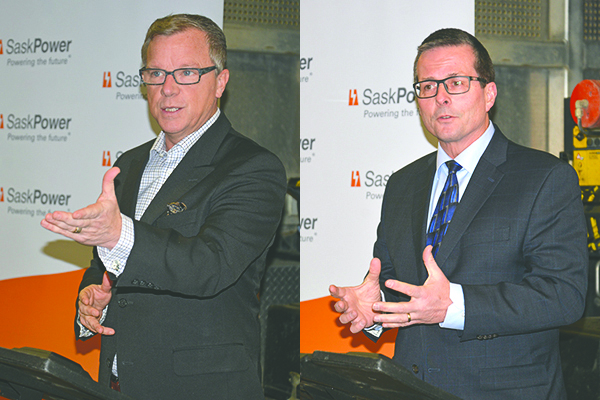 After months of behind the scenes work since the project was first announced in June 2015, the Chinook Power Station is gearing up for a spring construction start.
The 350 megawatt natural gas-fired power plant, which will be located northeast of Swift Current, is scheduled to be completed by late 2019.
Premier Brad Wall and SaskPower President and CEO Mike Marsh provided a progress update for the Chinook Power Station during a press conference on Monday afternoon.
"It's a large power station in terms of in size and scope. And when it's complete, the Chinook Power Station will be capable of powering a city roughly the size of Saskatoon," Marsh noted during the project update.
Site preparation work is beginning this month, with crews clearing the area of trees, roots and other surface material, before starting levelling, grading and excavating work.
SaskPower learned in December the federal government will not require a full Environmental Impact Assessment. SaskPower had previously completed a provincial impact assessment, so they remain on track with their provisional project schedule.
Burns & McDonnell Canada, the engineering, procurement and construction firm which SaskPower had partnered with for this project, is responsible for identifying sub-contractors for various parts of the work, so various work packages will be issued over the coming months.
"As we begin to scale up construction on this plant, there's going to be many many opportunities for local contractors and suppliers, and Saskatchewan contractors and suppliers as well," Marsh explained.
The $680 million project is anticipated to create up to 500 jobs during construction, and there will be 24 full-time employees operating the plant when it is operational in late 2019.
Premier Wall noted these jobs, and the expansion of the power grid, are both good news for the Southwest and for Saskatchewan. And, as a combined-cycle plant produces less than half the carbon dioxide emissions than a conventional coal fired station, the project will assist Saskatchewan's efforts to move towards 50 per cent renewable electrical generation by 2030.
"We need to move to more wind and solar, and we're going to do that. But as we do that we need to make sure that base load power can back it up. And that the base load power is as clean as possible. And other than hydro, and, well, nuclear, which is just not an option in terms of scale for us, you won't find a lot of base load power that's as clean as natural gas," Wall said on Monday.
Wall noted that American President-elect Donald Trump indicated during the election campaign that he wants to see coal play a bigger part in American electrical production, and with efforts to move towards cleaner energy Wall anticipates a heightened interest in SaskPower's efforts at Boundary Dam 3 in Estevan.
"SaskPower is an international leader in terms of carbon capture and sequestration, cleaning up coal generation as we're doing in Estevan successfully."
Wall also highlighted Saskatchewan's responsible electrical production efforts in light of the current discussion regarding carbon taxes.
"Not withstanding important improvements in technology and a move away from fossil fuels, the International Energy Agency has reported pretty clearly that even by 2040, 75 per cent of the energy that the world needs to operate and to live will come from fossil fuels. Even as we move, again appropriately to non-fossil fuel sources," Wall said.
"What we need to be doing though is cleaning up that fossil fuel profile, making it more sustainable. That's what Boundary Dam 3, the
carbon-capture project in Estevan is all about. And that's also what combined cycle natural gas is all about."
Saskatchewan is also facing higher electrical demands, with SaskPower forecasting a two per cent growth in electrical needs this year and an increased need of 13 per cent by 2025. Saskatchewan's electrical needs have already increased 22 per cent since 2007.
"We've hit three peaks already in the last month in this province, and that's just an indication of how much the load is growing in the province," Marsh said.
"The load has come up over the last five years significantly in the oilfield and in the pipeline community. This was a logical place to put the next electrical generating station in the province," Marsh added.
He pointed out it is important to have this new electrical production because major gas pipeline customers Enbridge and TransCanada have facilities relatively close to Swift Current.
"In addition to providing that base load power 24/7, Chinook will also support our plans to significantly grow wind generation in the province. This facility will play a key role in helping us reduce our emissions by 40 percent below 2005 levels by the year 2030."
SaskPower has already issued a Request for Qualification to develop 10 megawatts of solar electricity, and they have received a number of bids. Once they proceed to a short list, for as many as 10 potential projects, those companies will then go into the Request for Proposal phase where proponents will undertake detailed work.
Currently, SaskPower's board has approved the idea of developing another 200 megawatts of wind energy, but they are still awaiting cabinet approval before opening the RFQ/RFP process.
"If that happens to be sighted in the Southwest part of the province, that will be good. There's many, many sites in the entire Southern part of Saskatchewan that we're looking at. So it's going to be up to the independent power producers to identify their best preferred site, and we'll work with them as these projects come to life," Marsh said.