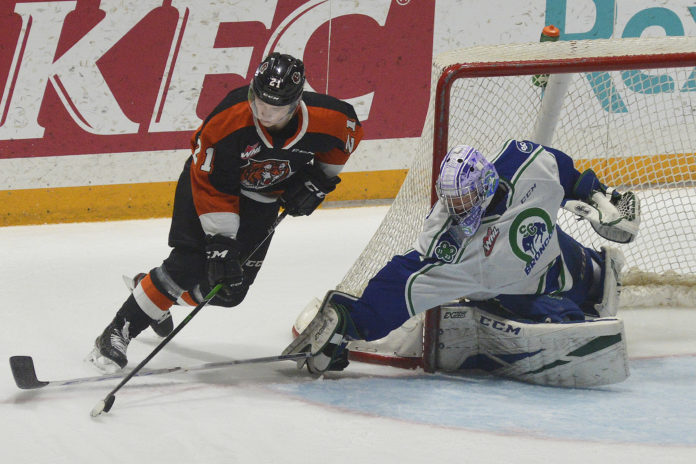 The host Swift Current Broncos stayed with the Medicine Hat Tigers for two-and half periods before falling 4-1 on Friday. Their undoing came partly on special teams as they were not whistled for a single penalty, but failed to score on five power play attempts despite generating plenty of quality scoring opportunities.
The Broncos took the lead with 4:21 remaining in the first period when Eric Houk converted a second chance opportunity for his fifth goal of the season.
The Broncos had most of the scoring chances in the second period and hit the post on three occasions before Bryan Lockner scored with 3:13 remaining to tie the game.
The Tigers took their first lead when Ryan Chyzowski's two-on-one pass went off a skate and in midway through the third period for the game winner. James Hamblin hit the 30-goal plateau 1:04 later when his screened shot found the back of the net to put the game out of reach. Parker Gavlas closed the scoring with a highlight reel effort culminating in a backhanded goal to the top corner.
Isaac Poulter fell to 9-22-1-2 despite making 35 saves. Garin Bjorklund made 23 saves to improve to 17-3-0-0.
The Broncos fell to 10-33-1-3 with their second straight loss to the Tigers in four days. Medicine Hat improved to 32-14-1-1.