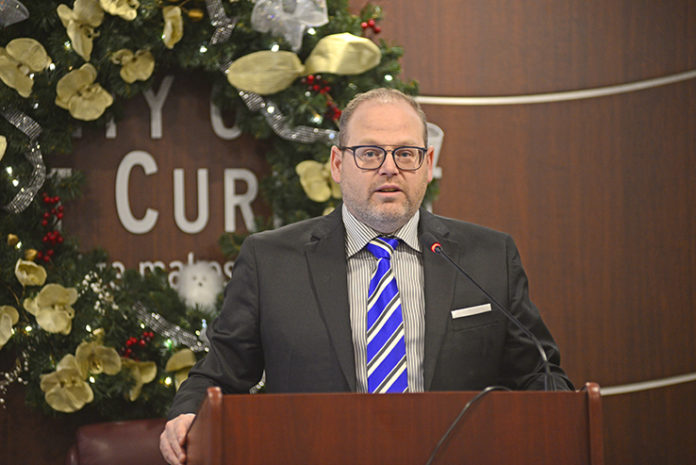 Swift Current homeowners can expect to pay approximately $68 more in city taxes this year as a result of increases approved in the 2020 Swift Current municipal budget.
Council unanimously approved an increase of 1.75 per cent in their capital budget, and a 2.18 per cent increase in the operating budget. The 3.93 per cent increase, based on a home with an assessed value of $280,000, will pay $5.67 per month more in city taxes during 2020.
"In 2020 what we're looking to do is ensuring that we've still got great services that we're offering to our residents, and it's making sure that we're building a little bit for the future as well," Mayor Denis Perrault said after the approval of the budget at Monday's City Council meeting.
The Mayor highlighted that a few planned budget expenditures were postponed as council strived to keep the tax increase down.
"It wasn't that we cancelled projects, it's essentially that we deferred. We pushed things forward into future years. We are trying very hard to do the best we can with what we've got. We know that there's an infinite amount of requests and a very finite amount of dollars. We also know that taxes are a fee for service, and the public nominally is getting great services in the City of Swift, I believe far better than many other communities in the province," Perrault said, adding he is interested to see what larger centres are implementing for increases.
The 2020 budget's largest capital project is a $2.7 million renovation at the North Hill Reservoir situated in Saulteaux Park. This project will address deficiencies in the existing system in order to improve water flow and water pressure in the Northeast portion of the City. Work to be undertaken at the site includes a building expansion, construction of a new wet-well, along with installing additional pumps with upgraded instrumentation and controls.
"That's a complete re-do so that we can provide water to that area and definitely for growth."
Another large capital expenditure will be $1.6 million to improve the area of 11th Ave. N.W. around the TransCanada Highway off and on ramps plus the North and South Service Roads. The full rehabilitation will involve a realignment of the roadway and traffic lights added to better control traffic.
"That's a big one. We know it's one of our busiest thoroughfare intersections, and we've known for a long time that it's something we need to work on."
"It's a very busy intersection that requires a lot of capital dollars," he explained. "We'll be working on light standards, we'll be working on meridians, and a re-do there definitely to help with traffic flow."
Perrault said the overall the 2020 budget is not a glamorous budget compared to the needs the city prioritized to host an event like the 2019 Western Canada Summer Games.
"As far as glamorous we're not talking about international events in 2020. To me what we're talking about is maintaining great services for our residents and continuing to build for the future."
Perrault explained the 2.18 per cent increase in the operating budget is primarily driven by additional costs arising from the Federal Carbon Tax, rising expenses for labour contract increases, plus a commitment to service.
The budget is anticipating an extra $150,000 will be needed as a direct result of a carbon tax, and that cost is being passed on to residents. The City is budgeting for just under $11,000 in carbon tax charges in the Light and Power Department, plus just over $40,000 in Water and Wastewater. The City is also starting to look at carbon reduction strategies with proposed carbon tax increases scheduled for 2021 and 2022.
"That has been the plan and the mandate set by our federal government, and we as municipalities don't have a choice but to follow suit," Perrault said of the increase.
City of Swift Current Chief Administrative Officer Tim Marcus noted that the city is exploring ways to reduce their carbon footprint in response to the Carbon Tax.
"We're looking at potentially some solar things that we can do in order to reduce some electrical usage for our facilities," he explained. "We've been in discussions with several providers to see what kinds of opportunities we can come up with."
Mayor Perrault added they city has already changed the lighting at the Innovation Credit Union iPlex and Fairview Arenas to LED lighting, and they are starting a multi-year plan to convert all city street lights to LED lighting, with downtown street lights already converted to LEDs.
"We believe we've got some ideas that hopefully we'll be able to implement I'd say over the next few years," Perrault said of some other efforts which are being explored.
A pair of potential expenditures are in the budget, but they will only proceed if the city receives matching grants from the provincial and federal government.
Swift Current is hoping to spend $1 million on a pair of flood mitigation projects this year, with two berms planned in the Ashley Park area. Flood Mitigation grant funding could also result in the city spending $1.2 million in 2021 and an additional $750,000 in both 2022 and 2023.
The second grant dependent capital project is a $2 million rehabilitation project of the Swift Current Airport runway. The city would be spending $500,000 this year as the first of four years of payments on a project to mill and resurface the primary runway at the airport. The four year expenditure is a requirement to meet federal government standards to continue to utilize an airport serving the community.
MUNICIPAL DEBT LEVEL
A chart in the 2020 budget notes that 42.4 per cent of the capital budget is funded via borrowing, with 30.4 per cent coming from the surplus generated by the Light and Power rates. There is also 13.3 per cent from grants and other revenue, 8.8 per cent though lot sales, plus 5.2 per cent from an equipment reserve.
"Right now we're definitely below our debt limit which is favourable, it's definitely where we're happy to be," Mayor Perrault said.
He said Swift Current takes out debt in order to pay for capital projects that are going to have a long life, and they tie payments to the life of the capital project.
During 2020 the city will be paying down just in excess of $5 million in debut, but they will be taking out close to $5 million in order to pay for their 2020 projects.
"All of our debt again is tied to the useful life of the assets that we take out against them," he explained.
"As far as clearing the debt goes, we'll be paying off portions of our debt every year as it's in our principle payment plan that we've got. In years we might be going a little up and we might be going a little bit down, but in this current budget we're looking at a very modest increase that should be close to the amount of principle that we're paying down."
FIRE HALL
In the 2019 Five Year Capital Plan as part of the 2019 city budget, dollars were being proposed for a protective services facility, but this year's budget does not include funding for a new Fire Hall.
Mayor Perrault said they completed a plan during this past year in order to have their design shovel ready for when targeted grants are available.
"We believe there's going to be targeted grants in the future, specifically for emergency services. And so we are working on the process right now with doing a plan for that. And that's where the dollars last year went, so that we will have a completed plan that we can use to apply for grant dollars. And we will be applying this year, likely for the 2021-22 capital budget."
SWIFT TRANSIT
After taking a close look at Swift Transit during 2019, transit users can look forward to continued bus services in 2020. The city did an extensive transit survey during the summer and fall months, and they received 1,300 survey responses, the highest percentage response to a survey the city has experienced.
"We hope in the new year to be able to share exactly what those results are," Perrault said. "But I can share with you that the public came back to us was they want to see transit in Swift. It might not be them that are using it in particular, but they believe it's a very important service that we can offer to our community."
"There will be some dollars spent on transit in 20. And it's all in an effort to make it a better service. It's in an effort to see our residents served even better than they have been in the past."
"We want to see full buses. And we definitely are seeing more people ride. We're always going to be looking at ways we can amend it, either through changes to the lines, changes to the stops, and we'll always continue to ask our public what we can do better, specifically for transit."