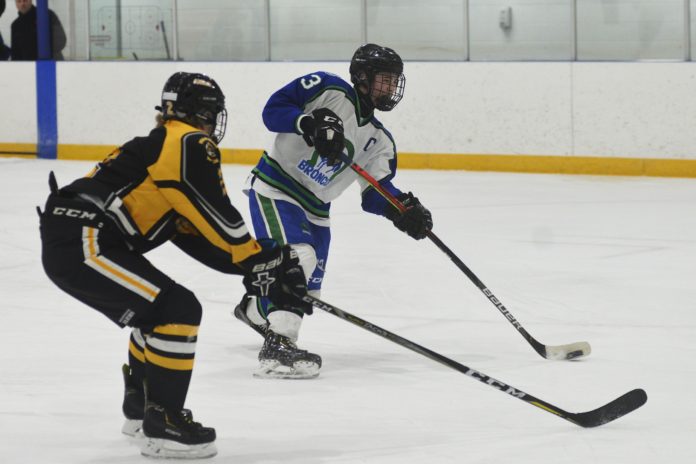 Kalan Lind's torrid scoring pace continued as the Swift Current Pure Chem Broncos won a pair of games in the Saskatchewan Bantam AA Hockey League over the weekend. The third-year forward registered 14 points in two games and leads all skaters in the league with 28 goals and 45 points in nine regular season games.
Saturday, the Broncos scored five goals in the third period in an 8-5 win over the visiting Warman Wildcats. Lind led the Broncos with four goals and two assists. Defenseman Carter Herman finished with three goals and two assists, including a shorthanded marker. Rylan Williams had a goal and an assist and Brayden Sumner picked up a pair of assists. Jace Bymoen and Hudson Darby each added assists. Hunter Arntsen earned the win with 18 saves.
Sunday, Lind scored the opening four goals and finished with six goals and two assists in an 8-3 win over the host Notre Dame Hounds. Lukas Toth earned the win with 29 saves on 32 shots.
Kade Stringer added a goal and three assists, Williams finished with a goal and an assist, and Herman chipped in two assists. Kaden Regier and Cuttter Knight also had assists.
The Broncos sit second in the South Division with an 8-3-0-0 record.
The Broncos will visit the Yorkton Terriers and the Melville Millionaires this weekend.