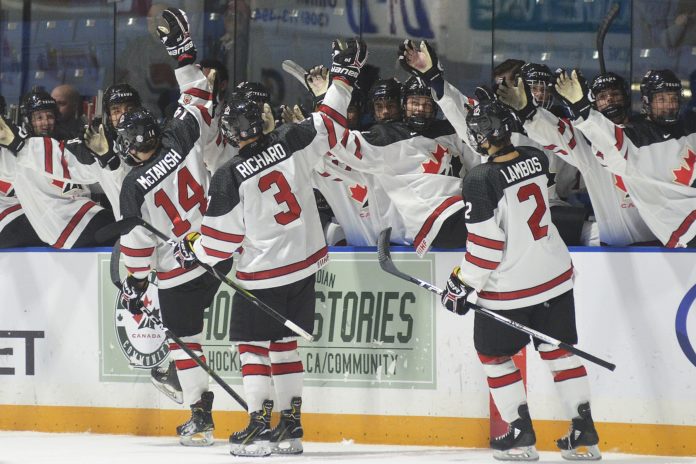 It may still be November, but Saturday seemed to mark an unofficial conclusion to 2019 in Swift Current when the World Under-17 Hockey Challenge came to an end. The tournament, co-hosted with Medicine Hat, was the fourth and final major sporting event held in Swift Current during the calendar year.
"It's been huge," said Swift Current Mayor Denis Perrault. "2019 was overwhelming from start to finish. We hosted Hockey Day in Canada with Ron [MacLean] and Don [Cherry] and Lanny [McDonald] and Darcy [Tucker] and all the crew. Then to come into the Western Canada Summer Games and see 2,000 volunteers step up, that was incredible for me. Of course we hosted CCA Finals and now this, it's a capstone and in my opinion a perfect capstone. This is a real strong hockey community and we're capping it off with top quality, world-class hockey in Swift and it's sure a lot of fun."
"Four was a lot," said Perrault, who also noted that it was an exceptional situation in that Swift Current did not bid on either Hockey Day in Canada or the World U17 Hockey Challenge. "I think in any given year one, maybe two, would be realistic for this community. But it reinforces again that the community stepped up for it. In fact, we had to turn off our volunteer portal for this one. Our last event, where we thought we'd have a tough time finding volunteers, we actually turned them away the past couple of weeks. That's incredible to me. The sponsors continue to step up. It's just fantastic."
Swift Current hosted 11 hockey games over eight days, featuring the top players from Canada, Finland, Sweden, Czech Republic, and Russia, who went on to defeat the United States in Saturday's gold medal game in Medicine Hat.
"I couldn't be more pleased," said Swift Current event co-chair Liam Choo-Foo. "It's been absolutely outstanding. The volunteer force has stepped forward. Out of 150 volunteers, and I'm thinking probably 1,000 shifts, I only know of one volunteer that didn't make their shift. I had guys in the bowels of the rink moving equipment at 2 a.m. as different teams came in and left. The commitment has been unbelievable. Hockey Canada, the parents of players, and everyone, the scouts, have been very complimentary about how this tournament has been run. Once again Swift Current has done a fantastic job."
Choo-Foo said that game attendance in Swift Current was one of the only aspects that failed to live up to expectations.
"The final numbers on attendance will probably come in a little under what we had been anticipating. I think we'll hit our budget expectations around it, but if there has been a disappointment it's probably been about the number of people who have come through the doors. For those that have been here, I think they've had a really good time. The atmosphere has been excellent, but it sure would have been nice to try and recreate some of that energy we had when the Broncos had their run a couple years ago."
Choo-Foo hopes that the tournament will leave a lasting legacy in Swift Current.
"I hope we leave a couple different legacy pieces. The tangible one would be that if we have any kind of concrete financial component it will go to a legacy fund, which will be directed towards Safe Places and also some arena improvements at Fairview. Secondly, and I think more importantly, again it's that legacy of Swift Current can do big projects, we can do them well, and we can do them on a world stage and really show the world that we can have a lot of fun while we're doing it."