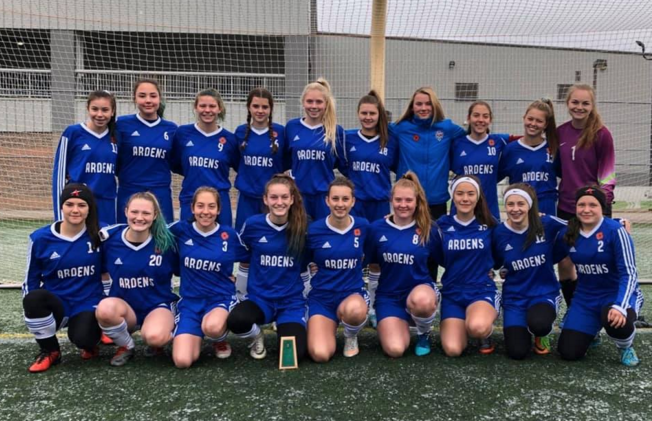 The Swift Current Comp. Ardens returned to the provincial podium after a one-year absence with a bronze medal at 5A Girls Soccer Provincials in Saskatoon. While a provincial championship still eludes them, the Ardens have now medalled in four of the past five seasons.
A season filled with unpredictable weather came to a fitting conclusion when the Ardens were named co-bronze medalists after the turf field in Saskatoon was covered in ice on Saturday. The Ardens were set to face the Regina LeBoldus Golden Suns in the bronze medal match before the remaining games were cancelled to due to concerns over player safety.
The Ardens had opened the tournament with a dramatic 3-1 extra time victory over Regina Campbell in the quarter-final on Friday morning.
Grade 10 midfielder Olivia Koebel opened the scoring in the second half when she tapped home a loose ball in the penalty area for the crucial lead after the Ardens had dominated the match. The Ardens had a lapse late in regulation and Campbell took advantage to force extra time.
Grade 12 striker Jannae Carlson scored the game winner during the second extra time frame and captain MJ Anderson quickly added an insurance goal to close the scoring. Grade nine striker Jaycee Berggren picked up a pair of assists, while Jasmine Temoshawsky earned the win in goal.
The Ardens suffered their only loss of the season when they were defeated 1-0 by the Saskatoon city champion Holy Cross Crusaders in the semi-final.
The Ardens finished the season with a 14-1 record, including their first Moose Jaw Soccerfest title, an 11th consecutive Moose Jaw League championship, and a 5A South Regional title.
They will graduate five players, while 14 are eligible to return.