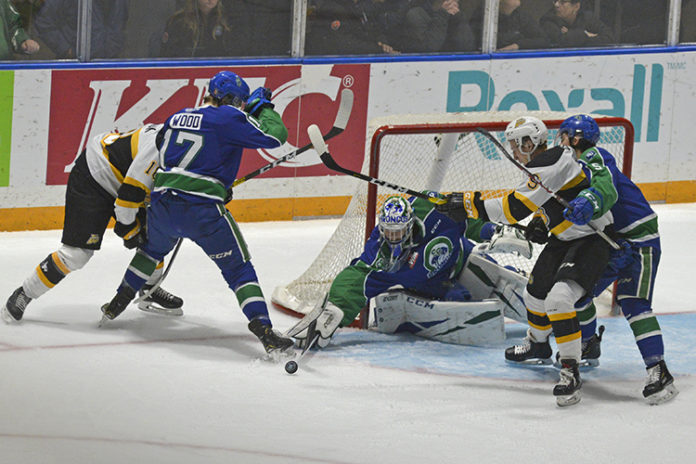 The Swift Current Broncos lit the lamp first but certainly not the most in a 5-1 loss to the visiting Brandon Wheat Kings on Saturday night.
Forward Brecon Wood got the Broncos on the board just 5:15 into the game to give Swift Current their only lead of the contest.
Just 1:40 later Brandon tied the game when Luka Burzan counted his sixth of the season during a period the visitors held a 16-11 edge in shots.
Brandon broke the game open with a trio of goals in the middle period, as Connor Gutenberg scored his third of the season on the power play just 45 seconds into the period, Riley Ginnell counted his first WHL goal midway through the period, and Ben McCarney notched his sixth of the year with 5:34 left in the period.
The Wheat Kings scored their fifth consecutive goal when Burzan counted his second of the night and team leading seventh of the year just 1:16 into the final stanza. Brandon dominated the period 18-7 on the shot clock.
Brandon goaltender Ethan Kruger stopped 22 of 23 shots to improve to 3-7-0-0 on the season. Bronco net minder Isaac Poulter is now 3-3-1-1 on the year after yielding five goals on 43 shots.
The win lifts Brandon's season record to 6-9-0-0 while the Broncos fall to 3-7-1-2.
The Broncos, who have just one win in six road contests this season, are back on the road for five consecutive away games as the Innovation Credit Union iPlex prepares to be the host site of the World Under-17 Hockey Challenge.