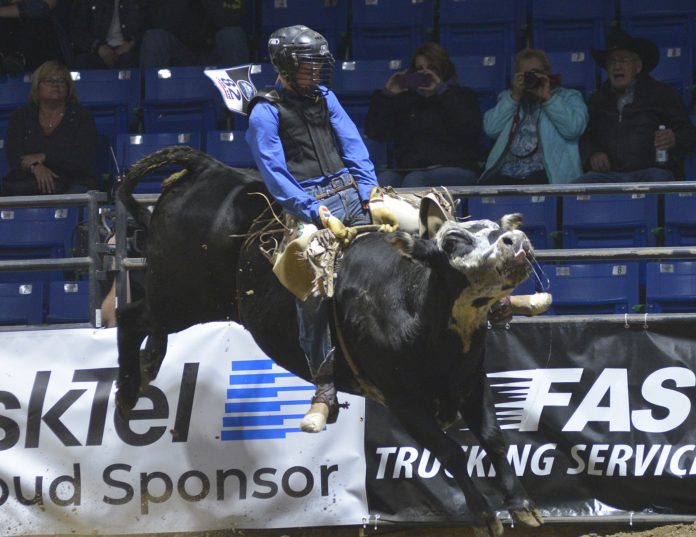 The top Southwest performances came from Novice and Junior cowboys on day two of the CCA Finals in Swift Current.
Maple Creek's James Perrin won Junior Steers with 73 points. He leads the four-man event with 100 points after two days.
Kyle's Kade Cheney tied for first in Novice Bareback with a 70-point ride on Thursday. He is now third in the event with 55 points.
Maple Creek's William Perrin had the only qualified ride with 56 points in Novice Saddle Bronc. He is now second, only 10 points back of the leader.
Performance three of the Finals will be Friday at 7 p.m.
Complete Night Two results were as follows:
BAREBACK
1st – KYLE JOHNSON MEIDJI, MN I'M A WINNER 80.0 80 40
2ND – BRADY BERTRAM, MAPLE CREEK, SK PEPPER BOX 79.5 79.5 30
3RD – BRETT WILLIAMS, STAVELY, AB HOT FLASH 79.0 79 20
4TH – CASSIEN HAUDEGAND, CADOGAN, AB FIRE UP 77.0 77 10
5TH – BLAKE LINK, MAPLE CREEK, SK FORTNIGHT 75.5 75.5 0
6TH – BAILEY PLAISIER, OAK LAKE, MB BETTY DAVIS 74.0 74 0
7TH – COLTON OUELLETTE, MEADOW LAKE, SK INDIAN DANCER 73.0 73 0
8TH – LANE FERGUSON, PICTURE BUTTE, AB CLUBBER LANG 67.0 67 0
LADIES BARREL RACING
1ST – NICOLE PANA MORTLACH, SK 12.72 12.72 40
2ND – KRYSTAL GRAD GRAVELBOURG, SK 12.79 12.79 30
3RD – DANA LOVELL CYPRESS COUNTY, AB 12.86 12.86 20
4TH – SHAYANA MOEN ELROSE, SK 12.87 12.87 10
5TH – BROOKE LANG CADILLAC, SK 12.88 12.88 0
6TH – MALLORY MAYERT WALDECK, SK 12.89 12.89 0
7TH – VALERIE GILLESPIE DUCHESS, AB 13.04 13.04 0
8TH – BAILEE HUMPHREY EASTEND, SK 13.13 13.13 0
9TH – HALEY GLASRUD SHUNAVON, SK 13.19 13.19 0
10TH – CHLOE CROSSLEY MOOSOMIN, SK 12.61 5.00 17.61 0
11TH – BRIANNA GIBSON ALAMEDA, SK 15.16 5.00 20.16 0
SADDLE BRONC
1ST – K'S THOMSON LUNDBRECK, AB CHROME BUCKLE 84.5 84.5 40
2ND – LOGAN YOUNG CAROLINE, AB BROKEN CODE 79.0 79 30
T3RD – COLEMAN WATT IRMA, AB BORROWED ANGEL 78.5 78.5 15
T3RD – ADAM GILCHRIST MAPLE CREEK, SK MAMA CASS 78.5 78.5 15
5TH – CASEY BERTRAM PIAPOT, SK UGLY TRUTH 78.0 78 0
T6TH – TIM COSTELLO NEW ZEALAND SPECIAL SMOKE 76.0 76 0
T6TH – LACHLAN MILLER AUSTRALIA LITTLE BROTHER 76.0 76 0
8TH – MIKE GORDON MAPLE CREEK, SK STONE CROSSING 75.5 75.5 0
9TH – TYLER WINTERS DOUGLAS, MB CALIFORNIA KIKI 74.5 74.5 0
10TH – MARK REDMOND AUSTRALIA FIRST CLASS 72.5 72.5 0
JUNIOR GIRLS BARREL RACING
1ST – JEWELIAN COX PRINCE ALBERT, SK 12.54 12.54 40
2ND – REESE DENBOW BOISSEVAIN, MB 12.70 12.7 30
3RD – KAYBREE ZUNTI UNITY, SK 13.00 13 20
4TH – SAYGE TURCATO TABER, AB 13.21 13.21 10
5TH – KAYCE LIPTAK TABER, AB 13.49 13.49 0
6TH – CASSIDY GORDON MAPLE CREEK, SK 13.80 + 5.00 18.8 0
JUNIOR STEER RIDING
1ST – JAMES PERRIN MAPLE CREEK, SK 73.0 73 40
2ND – KEGAN KMITA WEYBURN, SK 68.5 68.5 30
NOVICE BAREBACK
T1ST – KADE CHENEY KYLE, SK 70.0 70 35
T1ST – CASEY BEAR WHITEWOOD, SK 70.0 70 35
3RD – CRUZ MCNULTY BIGGAAR, SK 67.0 67 20
NOVINCE BULL RIDING
1ST – ORRIN MARSHALL CORONACH, SK 77.5 77.5 40
NOVICE SADDLE BRONC
1ST – WILLIAM PERRIN MAPLE CREEK, SK 56.0 56 40
STEER WRESTLING
1ST – JEFF HEGGIE CARDSTON, AB 3.6 3.6 40
2ND – JOE KING VIRDEN, MB 3.7 3.7 30
3RD – TRAVIS MUNRO AUSTRALIA 4.7 4.7 20
4TH – SCOTT SIGFUSSON TUGASKE, SK 5.2 5.2 10
5TH – TRACE NICKOLSON TABER, AB 5.4 5.4 0
6TH – TJ LOEPPKY CENTRAL BUTTE, SK 5.5 5.5 0
7TH – CHAD HANTELMAN KYLE, SK 5.8 5.8 0
8TH – TEE MCLEOD WALDECK, SK 6.1 6.1 0
9TH – ZANE MARCENKO ROCKGLEN, SK 6.6 6.6 0
10TH – TANNER TURCATO TABER, AB 4.1 10.0 14.1 0
TEAM ROPING
1ST – CLINT BUHLER/CHASE SIMPSON 4.7 4.7 40
2ND – CHAD FEIL/CONNOR BOX 5.1 5.1 30
3RD – COLT CORNET/STACY CORNET 5.2 5.2 20
4TH – WYATT SMITH/SCOTT MCLEOD 5.7 5.7 10
5TH – TY PATTON/JIM-BOB GOMERSALL 6.6 6.6 0
6TH – DAWSON GRAHAM/DILLION GRAHAM 3.7 5.0 8.7 0
TIE DOWN ROPING
1ST – RILEY WARREN STETTLER, AB 9.0 9 40
2ND – STACY CORNET BRANT, AB 9.2 9.2 30
3RD – BRUCE DUNHAM INDIAN HEAD, SK 10.5 10.5 20
4TH – SCOTT SIGFUSSON TUGASKE, SK 10.7 10.7 10
5TH – BLAINE SWITZER SWIFT CURRENT, SK 12.8 12.8 0
6TH – TUFTIN MCLEOD WALDECK, SK 13.0 13 0
7TH – SHAWN WILLIAMSON MANKOTA, SK 8.8 10.0 18.8 0
8TH – KEVIN DUNHAM SOURIS, MB 26.7 26.7 0