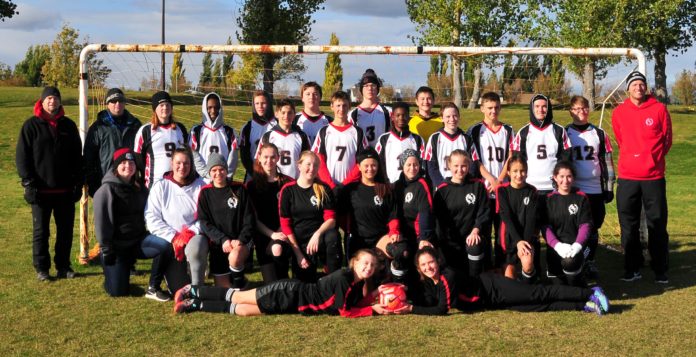 SUBMITTED
On October 5 at Perry Field in Swift Current, the Herbert Laurels men's and women's soccer teams hosted a three-team 7v7 soccer tournament aptly named the Southwest 7s Cup. Men's and women's teams from Maymont and LCBI came to compete in the first 7v7 tournament hosted in the Southwest.
The first games Saturday saw Maymont versus Herbert as the men's and women's teams played simultaneously beside each other. On the women's side, Herbert defeated Maymont in a defensive battle capturing a 1-0 victory off the foot of grade 12 midfielder Shyler Chartier as she found the net inside the penalty area off a corner kick. Grade 12 first-year goalkeeper Ty-lyn Peterson earned the shutout.
Meanwhile, in a regional final rematch on the other pitch, Herbert earned a 4-2 win over Maymont. Tristin Funk led the way with two goals. The grade 12 midfielder has returned to the squad after sitting out all of grade 11 as he recovered from a torn ACL. The ever present grade 12 fullback Pilani Siwela opened the scoring, while fellow grade 12 midfielder Josh Klassen rounded the scoring with a second half strike.
In the second matches of the day, Maymont defeated LCBI 2-0 on the women's side, while the men's game needed penalty kicks to break a 0-0 tie when LCBI came out victorious.
The third match saw the Laurels match up against LCBI. The women captured the Southwest 7s Cup with a 4-2 victory. After Chartier gave the host Laurels a 1-0 lead, LCBI responded with two of their own. But, before the half, first year soccer player, grade 12 Trista-Lyn Dayne found the equalizer and grade 12 central midfielder Irelynd Haughian scored to put the Laurels ahead at half. Haughian would find the back of the net again in the second half.
The Herbert Laurels men completed the Southwest 7s sweep with a convincing 4-1 victory over LCBI. Funk opened the scoring early while grade 10 striker Rhett Peterson tapped in a pass from Klassen, before Siwela curled in a shot from distance into the bottom right corner for a 3-0 halftime lead. Grade 9 striker Myles Siwela earned the lone second half goal for the Laurels with a powerful strike from the left side.
Next soccer action for the Laurels will be regionals the weekend after Thanksgiving. The women's side travels to LCBI for an eight-team single elimination draw and the men head to Fort Qu'appelle for a five-team single elimination tournament.