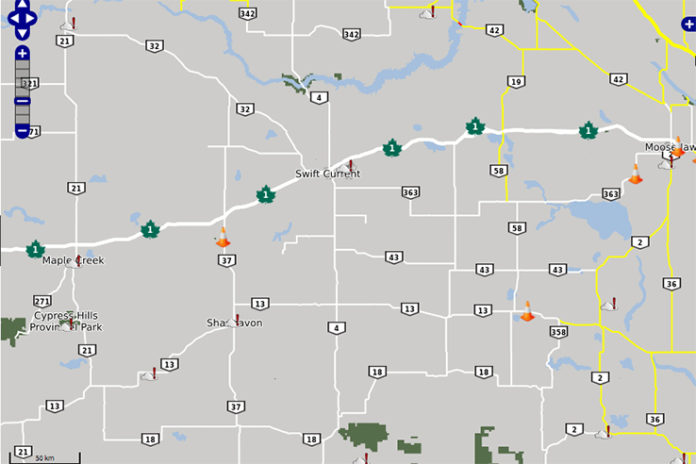 Travel is not recommended tonight across the entire Southwest by the Highway Hotline operated by the Saskatchewan Ministry of Highways and Infrastructure.
Heavy snow and high winds throughout Sunday impacted visibility on highways, and as the day progressed snow began to accumulate on roadways in the Southwest.
Environment Canada had placed the Southwest corner of Saskatchewan under a Winter Storm Warning, with snowfall totals as high of 30 centimetres possible during the weekend. An additional two to four centimetres of snow is possible on Monday before the storm system eases in the region.
An early evening Highway Hotline report for the TransCanada Highway noted travel was being impacted by slush, icy or slipper sections, drifting snow, and poor visibility. Heavier snows were being experienced near Maple Creek, Leader, Shaunavon, Eastend, Climax, Frontier, Val Marie, Cadillac, Chaplin and Rush Lake according to the Highway Hotline report.
People who are travelling on Monday are advised to check the Highway Hotline http://hotline.gov.sk.ca/map.html for the most up-to-date highway conditions.
The Chinook School Division and the Holy Trinity School Division had already cancelled a series of Monday bus routes as of Sunday night because of the poor travel conditions which will persist into Monday.